Newman University celebrates International Women's Day
09/03/2022 by
International Women's Day (8th March) is a global day celebrating the social, economic, cultural and political achievements of women. The day also marks a call to action for accelerating gender parity. In 2022 International Women's Day asked us all to Break the Bias. Individually, we're all responsible for our own thoughts and actions – all day, every day. We can break the bias in our communities. We can break the bias in our workplaces. We can break the bias in our schools, colleges and universities.
We asked staff, students, families and friends to join us in celebrating the achievements of women everywhere. Our Applied Humanities students hosted an interactive session exploring the different ways women have experienced prejudice and how we can move forward in 2022. This was followed by a workshop with special guest Marcia Lewinson, CEO of Women Acting in Today's Society (WAITS), who led a discussion around female empowerment. Both sessions were an opportunity for women of different backgrounds, ages, cultures and faiths to actively participate in discussion about the female voice in society.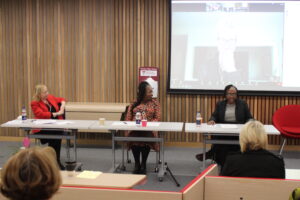 The event concluded with a panel discussion hosted by Professor Jackie Dunne, Newman University's Vice-Chancellor. Our visiting speakers were Marcia Lewinson, CEO of Women Acting in Today's Society (WAITS), Her Honour Judge Carole Burgher, Lead Judge for Birmingham and Solihull FDAC and Madeleine Rees, Secretary- General of the Women's International League for Peace and Freedom (WILPF). All of our guest speakers have worked to improve women's rights in Birmingham and were delighted to return to the area to inspire Newman staff and students to be responsible for their own thoughts and actions and help #BreakTheBias.