Newman University partner with Redditch United FC
04/05/2021 by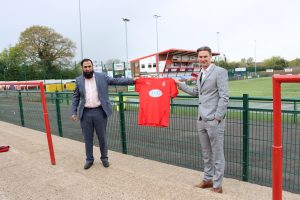 Newman University is proud to announce that it has entered into a collaborative partnership with Redditch United FC.
The partnership is part of the Higher Level Skills Match (HLSM), part-funded by the European Social Fund, an initiative created for businesses to support SME growth and employability, matching organisations with highly skilled local graduates and academic expertise to help drive their business forward.  Redditch United FC and Newman University will work together on projects that are closely aligned to both organisations' philosophies.
Dr Ibrahim Akubat and Dr Stefan Lawrence, Senior Lecturers in Sport and Health at Newman University, will work alongside the board of directors at Redditch United FC. In their roles as consultants at Redditch United FC they will help develop and drive the club's future strategy in areas such as management, governance, community development, education and the on pitch performance of the teams. It is envisaged that as part of this partnership, numerous opportunities will arise for students at Newman across the institution.
Dr Ibrahim Akubat commented "We're really excited to be involved in the next phase of the Redditch United FC story. David Faulkner the chairman is a former Newman student and our values align well. We have expertise at Newman in a number of areas that Redditch United FC could benefit from but we can also build on some of the already excellent service and schemes that are run for the local community by the football club. Our staff are doing similar work nationally and internationally with other organisations, so it's great to be able to contribute to a local club."
Prof Tony Myers, Professor in Quantitative Methods at Newman University commented "This is an exciting partnership that will benefit everyone involved – especially the stakeholders, supporters of the club and our students at Newman. It's another excellent example of the contributions that our experts at the University make to our surrounding communities, and we look forward to developing this collaboration further.",
Redditch United FC Chairman David Faulkner commented "I am very excited to have this official partnership with Newman University. Their support will enable us to continue to grow and help us to define our identity and strategy moving forward. This level of expertise helping to support us is a real opportunity that we will enable us to meet our future aims and ambitions.
Newman University offers a range of undergraduate Sport degrees including, Sport and Exercise Science, Physical Education and Sport, Sport Coaching and Performance, and Sport Development with Coaching – with top-up degrees also available in all 4 routes for students who wish to top-up their foundation degrees to a full University Honours degree. The University will also be launching a new degree in Sport Management this September (subject to successful validation).
For more information about the Sport subject area at Newman please visit www.newman.ac.uk/sportstudies