Newman University presents honorary degrees
04/11/2021 by
Each year Newman University Birmingham awards Honorary Degrees to those it feels have made a positive impact on the society in which we live, and especially in the Birmingham area.
On the 4th November, the University held its annual graduation ceremony at the Symphony Hall in Birmingham, where graduates were able to celebrate with friends, family and staff from Newman University.
This year the Honorary Graduates nominated by students and staff are Casey Bailey, and Peter Harrington.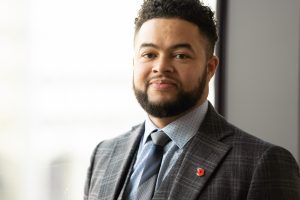 Casey Bailey is a writer, performer and educator, born and raised in Nechells, Birmingham; he is Birmingham's current Poet Laureate.
Casey has performed nationally and internationally, spent some time on a residency with the Royal Shakespeare Company, and taught, facilitated and led sessions up and down the country. His debut poetry pamphlet 'Waiting at Bloomsbury Park' was published by Big White Shed (2017).
Casey released his debut full collection of poetry, Adjusted in 2018 with Verve Poetry Press and his second collection Please Do Not Touch will be published by Burning Eye in 2021. Casey's play GrimeBoy has been commissioned by the Birmingham Rep. Casey's poetry has featured in a number of anthologies and he was commissioned by the BBC to write 'The Ballad of The Peaky Blinders' in 2019. He has performed his poetry nationally and internationally.
Casey is also a secondary school Assistant Headteacher who has, to this stage, focused on the areas of education and educational leadership that relate to addressing barriers to students having access to, or engaging with, the curriculum. Often categorised as the 'Pastoral side' of teaching and educational leadership this includes time spent as a behaviour Lead, Inclusion Lead, Designated Safeguarding Lead, Designated Teacher for Looked After Children, Lead on removing the 'Disadvantage Gap' and Lead on raising aspirations.  In addition, Casey holds the qualification of Specialist Leader in Education, with a specific focus on Behaviour and Community factors and has worked in a number of schools supporting their development, implementation and review of behaviour policies and the development of a whole school culture around behaviour.  Casey has also led training for staff, in schools, at conferences and for teachers/staff coming into the profession or starting to work with young people in different contexts. Casey's passion for education has seen him continue to invest time in his own, leading to the completion of his Masters in Educational Leadership in 2017.
The things that have driven Casey to pursue a career in teaching, have also led him to work within his own community and the wider community to support and promote the development of people who contribute positively to their environment.
The Honorary Degree of Doctor of Education is being conferred by Newman University on Casey Bailey for his outstanding contribution to education and the local and regional community.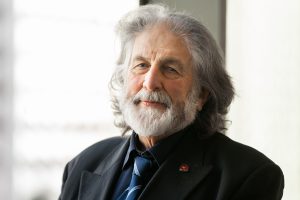 Peter Harrington has dedicated his life to helping others and to work within the Catholic church, alongside an illustrious career as a photographer. Peter, at the age of 85, currently serves as the Youth Officer for Catenian Province 6 (The Midlands) and is the driving force for their work with young people.
Peter has served as the official diocese photographer for over twenty years, using his specialist knowledge and passion to serve the church. He has worked extensively at St Chad's Cathedral on an official basis for over twenty years, and for many years prior on an ad hoc basis. Peter's photography has featured prominently in the Catholic press, including the 'Catholic Today' newspaper. His extensive photography credits include being official Wolverhampton Wanderers club photographer for over twenty years, alongside work for Mitchells and Butlers, The NEC Group and Punch Taverns. He has conducted extensive historical documentation on behalf of the diocese at, amongst other places, Maryvale, Oscott College and St Chads Cathedral.
At the age of 16 Peter helped to organise the Catholic youth group in Stourbridge, which he subsequently ran for many years prior to handing over to his daughter and her husband. He founded and ran the Stourbridge Christian Youth group which was a multi-denominational group. Despite his advancing years his passion for supporting youth remains undiminished!
Peter is key in promoting the Catenian bursary to support students attending the annual Lourdes Pilgrimage, inspiring and supporting students as they make what can be a life-changing journey. Peter is the organiser for the Public Speaking Competitions that runs throughout the Midlands – he presently organises and supports students at Hagley Catholic High School and Bishop Milner Catholic College whilst taking students from over thirty schools in the area towards the Province 6 Public Speaking Competition. He coaches the participants as well as ensuring a team of supporters run a valuable event for the young people of the Midlands. These events are supported by key members of the Catholic church, with the event patron and special guest regularly being Archbishop Bernard Longley.
The Honorary Fellow Education is being conferred on Peter Harrington for his contribution to the Catholic church in the Birmingham diocese.