Newman University Signs Armed Forces Covenant
21/06/2021 by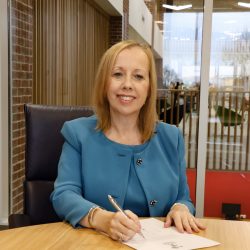 This week, 21st to 26th June, marks Armed Forces' week with Reserves Day on 23rd June and Armed Forces Day on Saturday 26th June.
Newman University has shown its support to the Armed Forces by signing the Armed Forces Covenant. The Covenant now has over 6,700 signatories, with over 600 in the West Midlands, Newman being one of them.
Vice-Chancellor Professor Jackie Dunne signed the Covenant which commits to honour and support the Armed Forces Community.
The signing of the Covenant signifies a meaningful partnership between the Armed Forces Community and Newman University. The agreement is in line with the University mission to support equity and inclusion. It offers a number of benefits for the Armed Forces and University communities including accessible education, supporting employment and careers and developmental opportunities.