Newman University's Accounting and Finance Degree accredited by ICAEW
14/10/2020 by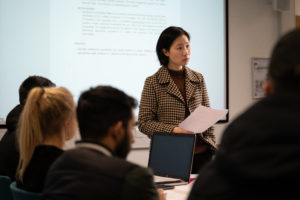 Newman University's Accounting and Finance degree programme has recently received accreditation from the Institute of Chartered Accountants in England and Wales (ICAEW).
The programme already had a number of modules accredited by the Association of Chartered Certified Accountants (ACCA) meaning students studying said modules may gain exemptions from professional exams as part of postgraduate accountancy training. The programme had also gained exemptions from the Chartered Institute of Management Accountants (CIMA) early this year, meaning students would be able to claim prior learning and award designation after graduating from Newman University.
The Honours degree programme aims to enable students to undertake a rigorous study of the theories and techniques related to accounting and financial management; acquire and develop the practical skills essential within an accounting and financial environment; develop and enhance transferable skills relevant to a range of employment opportunities in both private and public sector organisations including the third sector; and enable students to develop competence in accounting and finance, alongside wisdom in its application sufficient to enhance employability and possibly progress to postgraduate study.
Most recently Newman University was granted Credit for Prior Learning (CPL) for seven ACA modules by the ICAEW, including taxation, auditing, financial management, law and management accounting. The ICAEW Chartered Accountant qualification, the ACA, is one of the most advanced learning and professional development programmes available and is valued around the world in business, practice and the public sector.
One of the exemptions granted to Newman University's degree programme is on the ICAEW's professional level, which shows the ICAEW's recognition of Newman's practice on the programme.
Dr Jinning Hong, Course Leader in Accounting and Finance at Newman University, commented "I am pleased with the accreditations that we have attained from ICAEW, but I am even more delighted for our students to be rewarded for their efforts when they decide to pursue the professional qualifications with the international accountancy bodies, upon completion of their degree from Newman."
For further information on the Accounting programmes at Newman University visit the Accounting and Finance course pages.