Newman's Article 26 Student Graduates with 1st
25/10/2018 by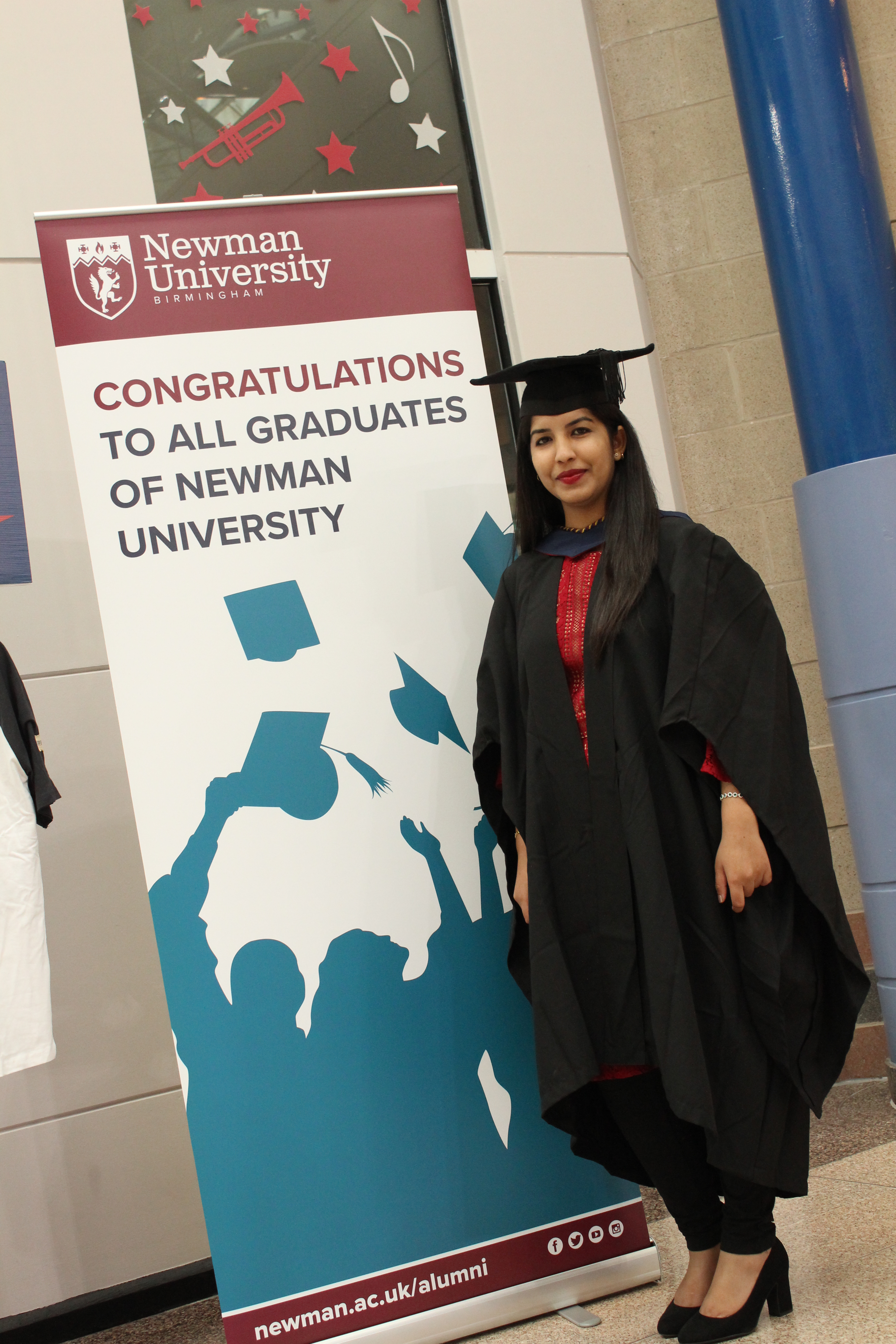 Newman University, Birmingham offers an Article 26 Scholarship scheme which gives a 100% tuition fee waiver and limited additional financial support to assist with study and travel expenses for one student each year.
Recipients of the scholarship are forced migrants to the UK who have no recourse to statutory student funding and are prohibited from working within the UK.
In order to qualify for the scholarship the student must have an offer to study on an undergraduate course at the University and be currently seeking asylum in the UK.
Ramisha Abbas was a successful applicant for the Article 26 award and has recently graduated with a First Class Honours in Primary Education with QTS. Ramisha, now 22 years old, commented "Being a forced migrant, I was not eligible for student finance and the cost of studying at university was hard for me and my family to afford. Getting the Article 26 award was a big relief, which provided me with a valuable opportunity to pursue my dreams of becoming a teacher by completing a degree in Primary Education. I am very grateful for the Article 26 award for supporting me to complete my education."
Ramisha chose to study the Primary Education degree as she felt it fitted perfectly with her career aims, which was to qualify as a primary school teacher and make a difference in young people's lives. After visiting Newman University on an open day Ramisha knew the University was for because of its friendly and helpful staff and positive atmosphere.
The Article 26 Scholarship allowed Ramisha to have access to a university education which she may not have been able to achieve otherwise. Ramisha enjoyed her time at Newman University commenting
"The staff at Newman University are very friendly and extremely helpful. I was able to contact my lecturers and other staff whenever I needed to and got a quick response and the help that I required. The course has allowed me to develop a deep understanding of different aspects of teaching and learning. It has given me many valuable opportunities to learn and to develop professionally as a teacher.
"I have been able to get help whenever I needed during all the different stages of my course, for example, I was able to go discuss my ideas for assignments with lecturers and staff members from student support, which was useful to understand and to form the structure of assignments. Also, I found getting help with my CV and personal statement from the student support very useful."
Ramisha's aim for the future is to successfully complete her Newly Qualified Teacher (NQT) year and continue teaching in primary schools with aspirations beyond this to complete a Master's degree in Education.
Concluding, Ramisha said "Article 26 has made my journey of university easy and it has helped me to peruse my dream of becoming a teacher."
Ramisha was able to celebrate her success with family and friends at Newman University's recent graduation ceremony, held at the Symphony Hall, Birmingham.