Newman's Dr Tony Myers chairs new BASES group
07/02/2020 by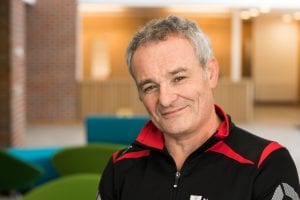 Reader in Sport Psychology at Newman University, Birmingham Dr Tony Myers recently proposed, and now chairs, a British Association of Sport and Exercise Sciences (BASES) special interest group (SIG).
BASES is the professional body for sport and exercise sciences in the UK and its mission is to drive excellence in sport and exercise sciences through the promotion of evidence-based practice and the development and enhancement of professional and ethical standards.
The SIG that Dr Myers chairs alongside others from the sport and exercise sciences industry, focuses on data analysis/analytics and was approved and launched at the end of January 2020.
The topic is one of particular interest to Dr Myers as his previous research focuses on quantitative data analysis methods. Dr Myers commented, "While this interest is broad and incorporates a number of different methods, I do have a particular interest in Bayesian data analysis and conducted a webinar last year on Bayesian methods on behalf of BASES and the publisher Human Kinetics."
The Sport, Exercise and Health Analytics SIG, currently consists of 30 individuals with different levels of experience both in their respective fields and in their experience with different methods of data analysis and different types of analysis software. Group members range from academics to practitioners, professors to PhD students, with various interests across health, exercise, sport, and data analysis.
The mission of the group is to debate, evaluate, recommend and share information on all methods of data analysis that can be applied in sport, exercise and health settings. These methods will include traditional biostatistics, Bayesian data analysis, machine learning and causal modelling.
The aim of the group is to provide direction, advice and resources for sport and exercise science researchers, reviewers, editors, practitioners, students (undergraduate and postgraduate), as well as those involved in teaching data analysis methods in a sports and exercise science context. The group also aims to produce relevant BASES expert statements to help in this.
So far, the SIG has attracted much international interest from researchers and data scientists/analysts from countries including Italy, India, Spain and Croatia. The chair would however, like to encourage more members to join, particularly female members.
The group aims to hold at least one face-to face meeting a year, but the main method of interaction will take place on a private dedicated online-forum, which aims to be a friendly, informative space, where individuals can debate different approaches to data analysis, share experience, share resources they have found useful, recommend software and help shape advise to the wider sport, exercise and health research community.
BASES members can opt in to communications from this Special Interest Group via their Member Profile (in the Members' Area) to receive updates and information on how to get more involved. Or alternatively email officemanager@bases.org.uk to be added to the group.