Newman's Lewis Hickman gives back to local community with NCOP project
23/01/2018 by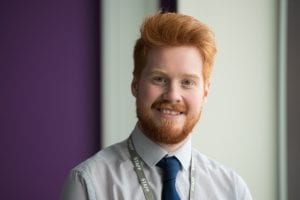 Newman University, Birmingham is part of the nationwide government initiative, National Collaborative Outreach Project (NCOP).
The programme aims to increase the number of young people from disadvantaged backgrounds in higher education by 2020. West Midlands is a key focal point of the project which means higher education institutions such as Newman University play a very important role.
Newman has a dedicated NCOP team who work with schools and colleges in the local area to provide young people with opportunities and information to help them make informed decisions about their future within higher education, something which falls into the distinct values of the university.
Lewis Hickman forms part of the NCOP team at Newman and as he grew up in the area which he now works he is enjoying giving back to his community.
Lewis, from Bartley Green where Newman University is based, attended Bartley Green School before progressing to study a BA (Hons) in Drama at Manchester Metropolitan University. Upon graduating Lewis returned to Bartley Green to seek employment and this is when he heard about the NCOP project.
"I applied for the NCOP role as I enjoyed my time at university; it was a beneficial experience academically and socially. In my gap year before university, I undertook a mentoring role at Bartley Green School to help pupils with their academic work and behaviour within school.
"After I graduated from university I focused on finding a role where I could support students. I decided to apply for the job with the NCOP project because I wanted to apply myself to a role where I could support young people in the education system and give them the knowledge and information to make an informed decision about Higher Education and the benefits it can offer."
Lewis has certainly found himself giving back to the school and community from which he benefited throughout his school years, something which follows Newman University's ethos of striving to be an inclusive community by providing an education for everyone.
As part of the NCOP project, Lewis works with the very school he attended and worked at during his gap year, Bartley Green, and also St. Thomas Aquinas Catholic School. Lewis, who is based within the schools for the majority of his working week, aims to inspire young people to progress onto Higher Education, and potentially open their eyes to options they have available to them.
Lewis has now been working on the project since September last year and already sees how rewarding his role is, commenting "Working with pupils on raising their aspirations, building a rapport with pupils and seeing them respond and be passionate about their future is the best part about the job. Seeing the pupils progress and work towards their goals makes you feel like you are making a change."
When asked if Lewis could give his younger self a piece of advice he said it would be "To push myself! I would encourage any young person to push themselves as far as they can and to be the best person they can be. If you work hardest you can then you will never regret any choice you've made in the future. Lastly work on being resilient, you will always encounter setbacks. It's how we get back up from those negative experiences that matters."
As part of the project Newman also works with young people attending a number of schools and colleges in the region and the project is set to run until 2020.