Newman's Sanctuary Café Successfully Launches 'Greenhouse Project'
12/05/2021 by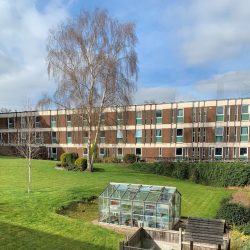 In March 2021, Newman University's on-site Sanctuary Café decided to contribute further to becoming more environmentally friendly by producing more of its own food to serve within meals at the University.
Ahron Asghar, Catering Services Manager, started the project with some small plants and seeds that were planted in the greenhouse on campus. From red onions to strawberries to cucamelon, the greenhouse has a great variety of fruits and vegetables. In just a couple of weeks there were some great signs including welsh onions and strawberries flowering, as well as leeks and potatoes sprouting.
With temperatures in the greenhouse rising, it has been tiring work for Catering Services Manager Ahron and his team, but just three weeks after planting the team had their first harvest of spinach, welsh spring onions and parsley, which they have been able to use in dishes created on campus.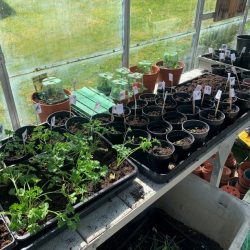 There has also been lots of growth in the other fruits and vegetables planted and the catering team hope to be using lots of the home-grown ingredients in dishes at Newman very soon.
Ahron comments "Newman has a brilliant greenhouse space on campus. I thought that it would be a wonderful opportunity to kick-start and hopefully get the students involved, all while growing some fruit, herbs and vegetables. The greenhouse project will give our students the opportunity to take pride and ownership in their efforts, then experience the rewards of their work when we use the produce to create meals in the Sanctuary. Going forward I would like to be able to plant and grow enough perennials that this project can continue very easily for a long time. It is a project that any staff or student can get involved in, creating links with other people in the University that you might not have normally. It's great for mental health and gives you a real feeling of accomplishment, so come and get your grow on!"
Newman University is committed to improving its environmental performance and to the ethical stewardship of the planet and natural resources. Newman recognises that as a University it has a responsibility to make a meaningful contribution to reducing its impact on the environment. The University acknowledges that activities at Newman impact on the environment and are committed to minimising such impacts and to developing more sustainable policies and procedures to reduce any negative effects of its operations on the environment.