Newman's Sanctuary Scholarship helps Zaid graduate with First Class Honours
24/10/2019 by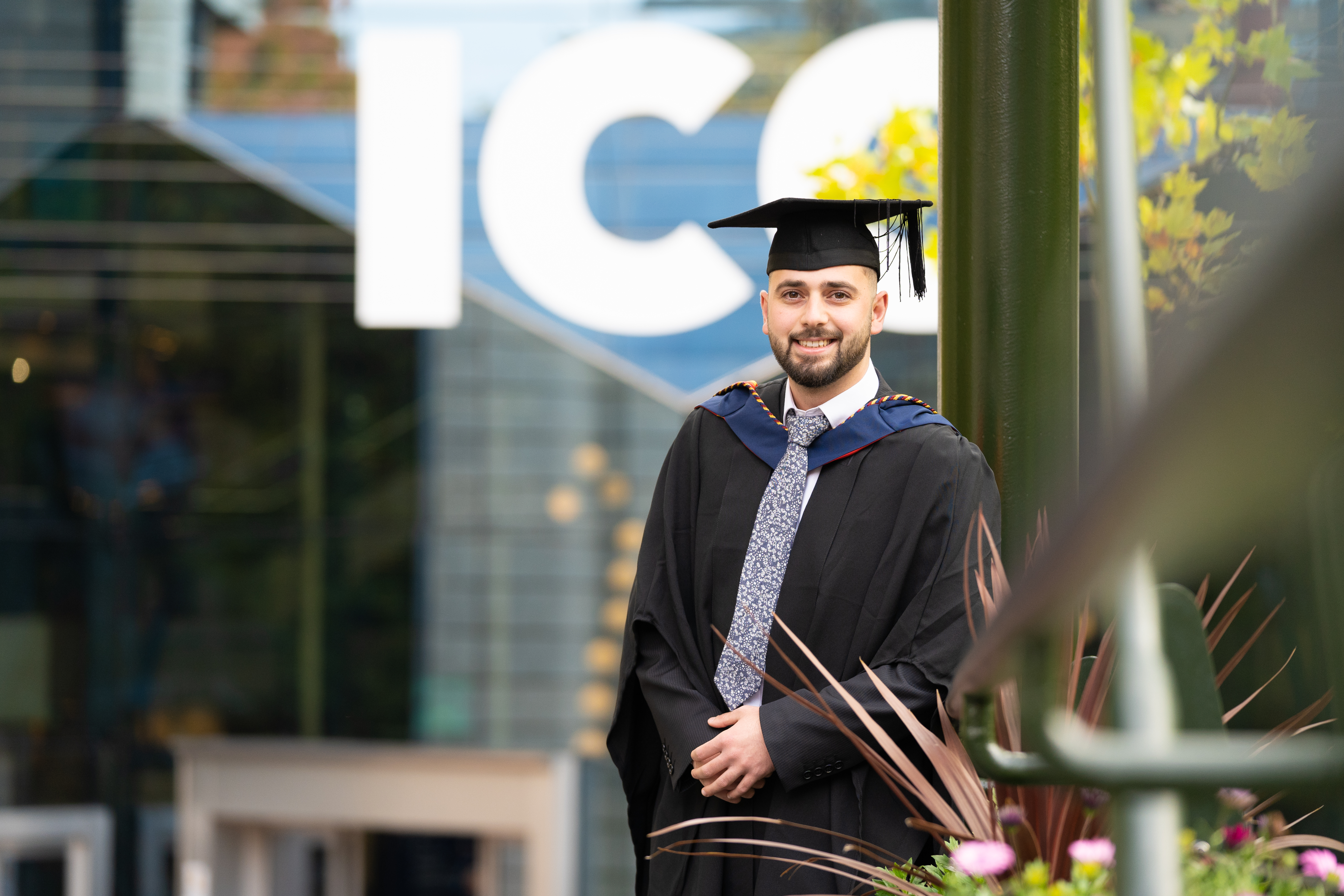 Zaid Hameed, 24, was born in Iraq, and had always had an interest in Accounting and Finance and wanted to study the subject in greater depth at degree level. As Zaid was seeking asylum in the UK he did not have access to a student loan and could not afford to pay the tuition fees by himself.
Zaid then discovered Newman University's Sanctuary Scholarship, which is part of the Article 26 Project, promoting access to higher education for people who have fled persecution and sought asylum in the UK. Zaid explains, "I chose to study at Newman University because it gave me a great opportunity to study under Article 26 as I did not have the right to get a loan and so Newman University offered me the scholarship that has changed my life and made me have hope again."
Sian Howarth, Director of Student Services at Newman University commented, "Zaid was the first applicant that I had the privilege of making a Newman University Sanctuary Scholarship award to, in my role as Director of Student Services, back in 2016. It was really clear from the start that Zaid would be successful in his studies; he had such passion for and ability in the subject and a clear desire to pursue his dreams, and he has worked very hard to achieve this!"
Newman University has provided the scholarship since 2014, with all students who have received the scholarship successfully completing their degrees. The scholarship provides students with a tuition fee waiver for the three years of study; study and travel support; and personal support from members of the University.
Zaid commented, "The course I studied was absolutely fabulous. I have received a great amount of support from all staff and learnt a lot from being a student at Newman University.
"Everyone I knew was absolutely helpful and supportive; all my lecturers supported me and gave me the motivation throughout my course. They took really good care of me and always wanted me to do my best and be a successful student.
"Newman supported me in the first place by giving me the scholarship and believing in me which made my dream of doing a degree in accounting and finance come true."
Studying towards his BA (Hons) in Accounting and Finance, Zaid has spent the last three years working hard to gain his degree. After attending the Graduation ceremony on Tuesday, he has now graduated with a First Class Honours in Accounting and Finance.
Zaid continued, "The scholarship was definitely the greatest opportunity I have ever received because it gave me the chance to use my time effectively and study to get a degree. I believe everyone in my situation should be given this chance in order to prove that they are capable of doing anything they want no matter what situation they are in.
"Firstly, I feel very grateful because I had this amazing chance to study at Newman University and graduate. Secondly, I feel so happy and proud of myself for finishing my degree successfully. However, I would not feel this way or be where I am now without the support and motivation that Newman University offered me during doing my degree. I would like to say thank you to all staff at Newman University who helped and motivated me all throughout in order to get the grades I wanted. I would honestly not be where I am now without your continuous support and care. It has been a really nice journey and I feel so proud of being a graduate from Newman University. I would also like to thank all my family and friends for supporting me and believing in me."
View more about the Sanctuary Scholarship on the Newman University website.