PGCE students work with local schools
29/06/2021 by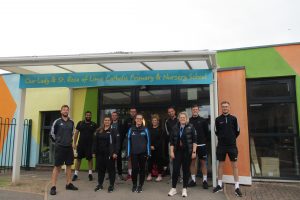 Newman University PGCE PE students have been working with a number of local schools over the past few weeks on a range of enhancement activities such as sportsdays and health days, allowing them to gain valuable primary experience within the local community.
The sportsdays were a great experience for the students as they organised and ran a set of athletic events, including sprints, relays, hurdles, speed bounce and javelin, working with years 3, 4, 5 and 6. The pupils of local primary schools thoroughly enjoyed their days, demonstrated with a group rendition of Sweet Caroline from St John Fisher School and St Pauls Primary School singing Club Tropicana in the pouring rain; it was clear to see the pupils at the local schools were enjoying spending time outdoors with their school friends taking part in activities led by Newman students. The sessions received praise from the local schools with the Headteacher at St John Fisher School rewarding everyone, including the Newman students, with a celebratory ice cream.
As well as this the students attended a bell boating PE lesson with a local SEND school which allowed the students to gain experience of working within a SEND school as well as the opportunity to teach an outdoor PE lesson. The day involved sharing boats with some of the school pupils to help them build confidence, teamwork, and communication skills. This was beneficial for both pupils in the school and the Newman students as it gave them the opportunity to teach outside of the mainstream curriculum. All of the students thoroughly enjoyed the day; the feedback from the Newman PGCE cohort was very positive and an eye-opener for them going into teaching roles in the near future, as they can truly understand all student's needs and capabilities.
The Newman students were professional and committed to each and every session they ran for the schools and were able to use the skills they have learnt within their teaching practice. The students will soon complete their PGCEs to become newly qualified teachers and the experience gained whilst studying at Newman will help them succeed in their careers.