Routledge publish Educational and Professional Studies staff's book
05/12/2017 by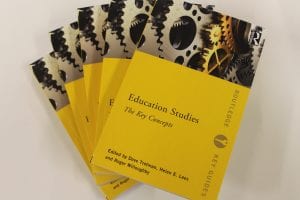 From a simple conversation at an open day to finding the book they edited published by Routledge, three members of the Educational and Professional Studies subject areas at Newman University have recently worked together to produce Education Studies: The Key Concepts.
Professor Dave Trotman, Dr Helen E. Lees and Dr Roger Willoughby of Newman collaboratively worked together to edit the publication which offers students a level-by-level guide to major key concepts that they will encounter in the study of education. The book also represents a significant culmination of collective experience, thinking, discussion and reflection between staff and students over the course of teaching Education.
The book comprises of 57 concepts, written by 18 contributing authors, each with their own area of specialist interest and was launched at Newman University yesterday. The launch featured contributions from the editors, authors and guest speakers Professor Lesley Saunders and Newman's own Vice Chancellor Professor J. Scott Davidson, who reflected on aspects of the excellent work by the co-editors.
With the aim of supporting student study in the field of Education, Professor Trotman, Dr Lees and Dr Willoughby worked tirelessly over the past few years to complete the publication and can now celebrate the realisation of the project.
Education Studies: The Key Concepts is now available to purchase.