Student Sam invited to Buckingham Palace
13/06/2019 by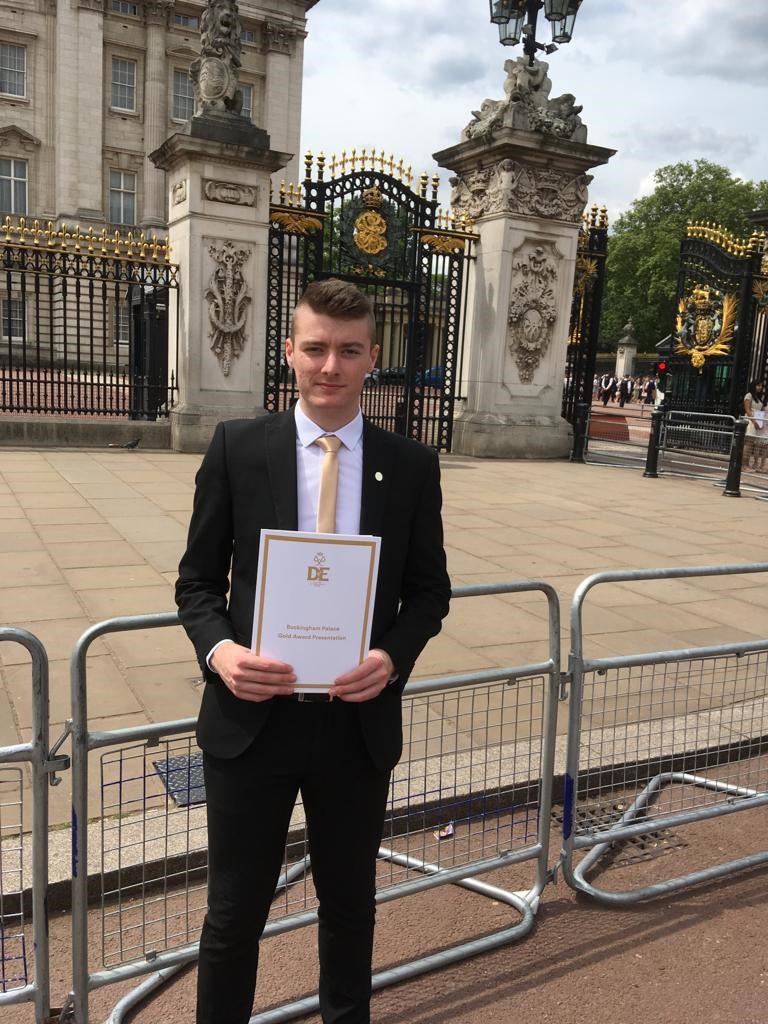 Sam Hart, 19, is currently studying towards his BSc (Hons) Sports and Exercise Science degree at Newman University, Birmingham. Sam says he chose his course due to his love for sport and that he wanted to pursue a career in performance analysis within football.
Sam commented "I wanted to study at Newman University because I was instantly welcomed and felt I belonged there. Secondly, the sports facilities and equipment that were made available to me including the performance lab allows me to research information I wish to study about.
"The staff in the sports department, where I study, are very supportive, always open with their students and are very approachable so we can ask questions whenever we may not understand something. A member of staff has already helped me gain experience within the field of performance analysis with professional clubs including Solihull moors FC and Coventry City FC academy."
As well as devoting his time to his studies, for the past four years Sam has been working hard to achieve his Duke of Edinburgh Gold Award.
Sam comments "My Duke of Edinburgh award involved achieving my bronze, silver and gold award. For each award I was required to complete 3 aspects volunteering, skills related activity and a physical activity which all lasted certain periods of time; and then of course the expedition where we would travel to specific locations to camp at cover long distances by walking.
"For my gold award we were covering on average about 14 miles per day for 4 days. The duration of the expedition was 4 days and 3 nights."
In order to achieve the gold award Sam also had to take part in volunteer work over the last four years where he volunteered to coach younger children football to gain both his bronze and silver awards and for his gold award he also helped with a Youth hostel for the residential part of the award, completing tasks such as gardening, cleaning and helping people have a welcoming stay if they were to visit for the night in Coniston in the Lake District.
Sam commented that he was able to improve his communication, adaptability, leadership and decision making skills by taking part in the Duke of Edinburgh Award.
As a result of Sam's hard work he was invited to Buckingham Palace to receive his award.
"I was thrilled but the excitement hadn't quite kicked in. It took a while for me to realise how prestigious this award was, that I'd been working towards for so long."
Sam travelled to London in the morning and upon arriving at the palace was able to walk around the palace gardens before having photographs taken. Sam and others then met the day's guest of honour, David Grant, MBE as well as Sophie HRH The Countess of Wessex who presented the awards.
Looking at his next steps Sam commented "My goals are to achieve a first class degree and be able to study a Masters degree in Performance Analysis to help me to gain employment within football, whether it be in the men's or women's game.
"My advice to any future Newman students would be; if you want to achieve your goals don't be afraid to fail along the way, because that's how you learn. If you have any issues regarding study or career choice talk to a member of staff or department at the university. Everyone is willing to help and are very approachable."