Students win CIMA Competition
09/03/2020 by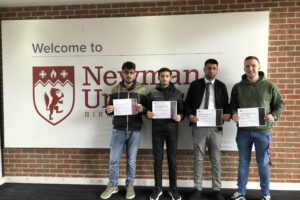 The Chartered Institute of Management Accountants (CIMA) Business Game runs every year and is an excellent way for students to take part and develop key skills that employees look for in graduate jobs.
On Wednesday 4th March, a CIMA representative visited Newman University, Birmingham to meet with both Accounting & Finance and Business students to challenge them with the Business Game.
The Business Game is a session delivered by a representative from CIMA who visits students to deliver a presentation explaining what CIMA is and how it can help students after their degree. The game recreates a typical assessment centre task and gives students the opportunity to feel what it is to be like in a real-life CIMA assessment scenario. The session also shows students a variety of business roles and what being CIMA qualified means, as well as encouraging students to develop their key skills such as working in a team, communication and presentation skills.
Second and third year students at Newman University gathered together before being divided into groups to put together their presentations on the case study provided by CIMA. The case study was a simulated scenario which involved the application of management accounting and strategic decision making techniques to analyse, recommend and support decisions.  The students were required to discuss the activity in their groups before presenting back and the representative from CIMA then chose the winning group.
The winning group was made up of Accounting & Finance students Daniel Greenway and Mohammed Adrise, as well as Business students Sabahat Shah and Abdul Qadeer Hashmi.
Mohammed Adrise, Studying BA Hons Accounting and Finance said: "The CIMA Business Game was a brilliant way for me to get a taste of what it will look like at a real-life scenario at an assessment centre.  It was a great way for me to improve my skills and see the difference between what business and accounting students think and help me prepare myself for any further interviews or meetings. This was really challenging but such a worthwhile experience that will help me with my future career".  
The winning team of student received certificates signed by CIMA which will be a great addition to their CVs when looking for future employment.