The Celebration of our Patron St John Henry Newman
13/10/2019 by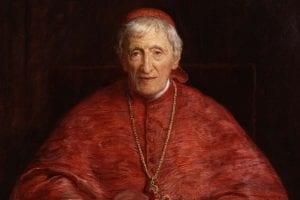 The canonisation of Blessed John Henry Newman takes place today Sunday 13th October 2019. For staff and students at the university this is a time of celebration and reflection.
A delegation from the university is participating in the events in Rome. On Saturday the group attended the Angelicum University for a Symposium on Newman, where speakers included Birmingham's Archbishop Bernard Longley and joined many other pilgrims, both at Mass in St Peter's and evening prayer at St Maria Maggorie. 
The canonisation Mass in St Peter's square in Rome will be attended by thousands and watched by more across the globe, and gives us all a time to reflect on St John Henry Newman, the educationalist, person of faith and his huge commitment to the people of Birmingham, rich and poor who came to him for advice and instruction.
To this day Newman University's ethos is that our university is a place where every individual is supported to fulfil their academic and person potential. The university is a place where all faiths, cultures and backgrounds re welcomed and valued. Newman's ethos is reflected in our mission to serve the community by making high quality education accessible to all those who are able to benefit from it.