Transformation West Midlands shortlisted for AGCAS Excellence Awards
25/05/2021 by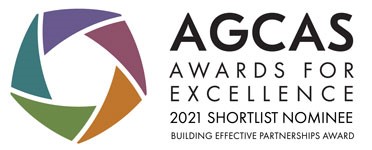 The Transformation West Midlands (TWM) team are delighted to announce that they have been shortlisted for the AGCAS Building Effective Partnerships Award for Excellence 2021. The nomination recognises the effective collaboration and partnership between Newman University, The University of Birmingham and University College Birmingham, in delivering the Transformation West Midlands Project.
The TWM project, funded by the Office for Students has been running for two years and even with one more year to go, the project has already been making strides in enhancing how local students and graduates can gain higher skilled employment in their home region, building a diverse graduate talent pipeline for West Midlands employers.
New ways are being tested to empower students and graduates, such as progression coaching. Through progression coaching we are transforming the experiences and outcomes of local students and graduates in the West Midlands, particularly from under-represented groups.
To create a stronger local eco-system of support, the team have also been working with employers, alumni and other local employability providers, to help boost skills and job opportunities. Reverse mentoring has been incredibly successful, where 17 local 'mentee' organisations have benefited from the insights and experiences of 49 student/graduate 'mentors'. Feedback has revealed real positive change in the marketing of graduate recruitment schemes and application processes. Equality, Diversity and Inclusion at entry level is being driven by working together, encouraging under-represented groups to apply in areas such as IT, Public Sector and Professional Services.
"It is so wonderful to be recognised for the collaborative work we are doing as a project team. Working together with a diverse range of knowledge, strengths and talents and learning from one another is culminating in some really positive results and outcomes that will hold legacy beyond the project". Melissa Clarke, Careers Manager, Newman University.
 "The collaboration works so well, because we have a great set of individuals across all three institutions; sharing good practise, ideas and working in partnership. It's been a pleasure to be part of Transformation West Midlands. The project has already taught us so much, learning we will be taking forward at University College Birmingham to influence the future of our career provision". Sara Chan, Assistant Director of Student Employability. University College Birmingham.
"This nomination is fantastic news! Our achievements are testament to how we work collaboratively as a university partnership, and how our results are underpinned by great support and commitment from our local employers and providers. It's truly is one big partnership. We're learning all the time, striving to make a difference for all, which undoubtedly will positively impact on our region".  Alison Sharp, Project Lead, University of Birmingham.