Engage Magazine
Engage - The magazine for Newman Alumni and friends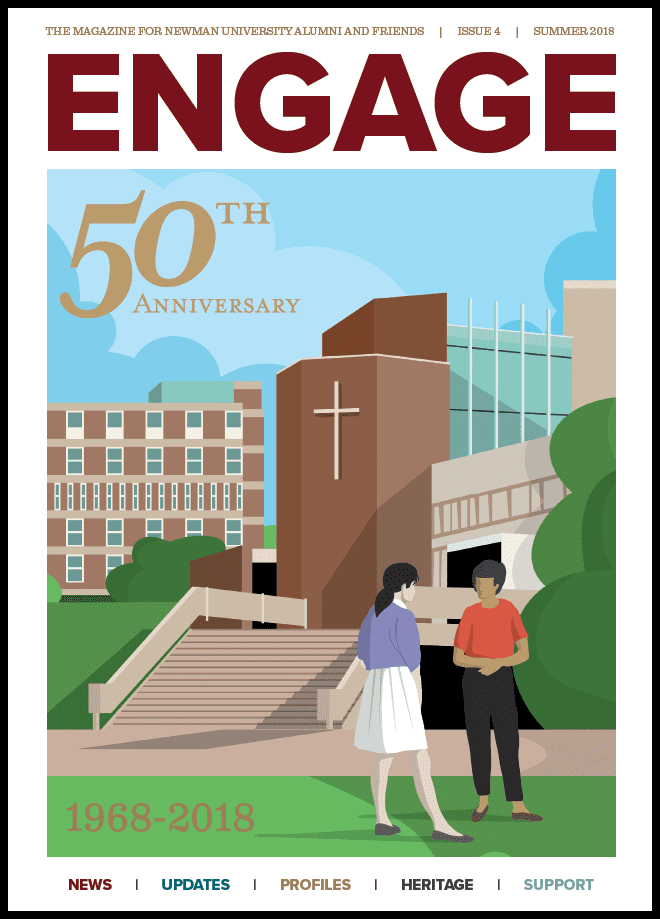 Issue 4 – 50th Anniversary Edition 
Welcome to our latest edition of Engage, the magazine for Newman alumni and friends. This issue is a super-sized special commemorative issue to mark Newman University's 50th anniversary.
Inside issue 4 we explore our new brand, and look back over the first of our 50th anniversary celebrations from earlier this year. We hope you enjoy our regular updates, as well as our special heritage-focused articles that look back fondly on Newman over the years. If that wasn't enough we have also created a special 16-page supplement that contains an extensive timeline of Newman University's history.
Our 50th anniversary celebrations continue throughout 2018. We warmly invite you to The Big Alumni Reunion on Saturday 11th August. Share memories, reminisce and enjoy a day of live entertainment and delicious street food, followed by a late night DJ in our university bar, Senses. There will also be an opportunity to have a campus tour, and view the Newman Heritage Exhibition. Tickets are available here until Friday 3rd August. Please do extend the invitation to your fellow alumni, and take this as an opportunity to reunite with friends you may not have seen for a while.
Previous Issues
Would you prefer a printed copy of Engage magazine? 
Newman University is committed to developing more sustainable approaches to the use of its resources. We are also committed to reducing our impact on the environment, and therefore Engage magazine will now be a predominantly digital magazine, with a limited print run.
If you would like to receive a copy of this issue, or future issues, in the post, please fill out this short form.