Our Alumni - Secondary PGCE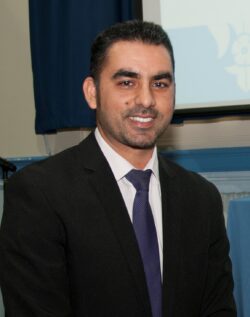 Waqar Ahmad Ahmedi – PGCE Secondary RE
Head of Religious Education
Waqar studied his PGCE in Secondary Religious Education at Newman, graduating in 2005. Waqar had completed his undergraduate degree a few years earlier and after a brief career as a sports journalist he decided to change paths and train to become a teacher.
Upon joining Newman, Waqar was able to work alongside other trainee teachers and the lecturers at Newman, he comments "My highlight of my time at Newman was learning with a wonderful cohort of trainees under my brilliant and engaging course leader, who delivered the programme with great professionalism as well as much needed humour!"
Waqar undertook placements whilst studying towards his PGCE and although it was a testing part of his training, Waqar, with the help of his family, friends and Newman staff, worked hard to complete the course.
"I couldn't have asked for more support. The advice, guidance and reassurance especially when things got tough were invaluable."
In 2005 Waqar completed his PGCE and was awarded QTS, which he states was his proudest achievement whilst at university.
Now, Waqar works as the Head of Religious Education at Kings Norton Girls' School in Birmingham. He has also authored a number of student textbooks and revision guides, and continues to deliver CPD in the UK as well as abroad.
Waqar was elected to serve on the National Association of Teachers of RE (NATRE) executive committee (2021-2024) and also sits on Birmingham's Standing Advisory Council for Religious Education (SACRE). If this wasn't enough, Waqar also hosts a fortnightly late show on Teachers Talk Radio.
When summing up his time at Newman, Waqar comments "It was an inspiring and enriching experience, which set me up for what has become a very rewarding career in teaching, for which I am eternally grateful."
Looking ahead Waqar aims to keep developing professionally, and supporting colleagues to do the same to be able to add as much value as he can to the education of young people.
Waqas gave a piece of advice to any students looking to begin their PGCE: "Make the most of the excellent support available, be honest when you need help, be prepared to make and learn from mistakes, and never stop believing in yourself."