Adult Nursing BSc (Hons)
Honours Degree, Undergraduate, September 2023
Key Details
B740 Course Code
3 Years
112 Typical UCAS Tariff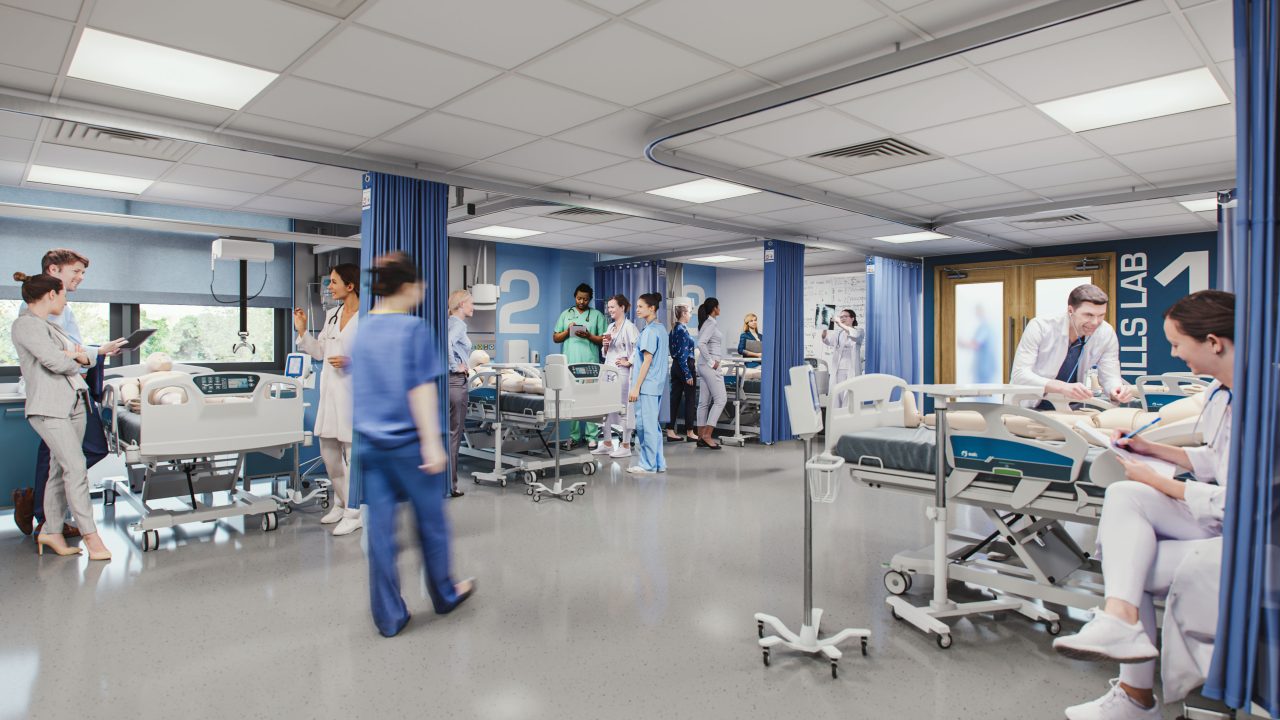 A career in nursing is challenging, satisfying and life-changing. As a nurse you can make a positive difference to people's lives every day. Our person centred nursing degrees will equip you to deliver exceptional care as a confident, capable and compassionate adult nurse.
The importance of our healthcare workers and the role they play has never been so evident. Find out more and apply now for a career where there's demand.
An application to join us in September 2023 is made via your UCAS account. Other courses from our School of Nursing and Allied Health for September 2023 include:
Adult Nursing (subject to validation and accreditation)
Our programme is developed in partnership with our skilled academic staff, clinical practice partners and experts by experience. The course at Newman University, puts people at the centre of care delivery. As a nursing student at Newman you will develop into a professional nurse who can assess and manage the health needs of people, at some of the most challenging times of their lives.
Our aim is to support your development into a graduate nurse who is able to work flexibly across a range of healthcare settings and meet the health needs of the whole person. We will work with you on your development to help you become a skilled, knowledgeable, emotionally intelligent nurse, able to lead and co-ordinate compassionate, evidence-based, person- and family-centred care while working as an integral member of the interdisciplinary team.
As a student nurse with Newman University, you will gain theoretical and practice knowledge to develop a range of key skills. This will include: exploring the evidence that underpins person- and family-centred care; professional values; self-leadership; and the role of the registered nurse.
As you progress through the programme you will explore evidence-based complex care incorporating a wide range of research, skills, team leadership and principles of coordinating care. You will be supported to build on your previous learning and develop proficiency in adult nursing. The modules you study will develop you as a leader who uses research-informed critical thinking to co-ordinate care, supervise other health professionals and gain confidence in the safe management of medication.
You will have individual support throughout the programme through a named personal tutor. The tuition will enrich your learning experiences and will enable you to reflect meaningfully on your practice and the development of your individual field identity.
As part of the course you will be provided with practice placements to help you develop your nursing skills and knowledge in a variety of settings. Your placement learning experiences may be within community, hospital or home environment settings and at a location anywhere within the West Midlands and potentially into neighbouring counties. You should be aware that placements are valuable learning experiences and cannot be chosen. While on placement you will be supported, supervised and assessed by practice and academic staff to develop your knowledge and skills.
We are committed to providing excellent, innovative, learning, teaching and assessment experiences, through lectures, seminars, skills simulation, virtual learning as well as meaningful input from our practice partners and experts by experience. As part of the course we will enable you to develop the independent learning skills that will equip you for lifelong learning and future employment, as well as academic achievement.
Whilst on the course you will benefit from some of the best university facilities of their kind, including clinical skills suites and our state-of-the-art immersive suite. Our experienced and enthusiastic teaching team will provide full support to help you achieve your ambitions
Our BSc (Hons) Nursing course has been designed to comply with the new Nursing and Midwifery Council (NMC) standards (2018) (subject to approval by the NMC and university accreditation) meaning that successful completion of this course will make you eligible to apply to be registered on the NMC register as an Adult Nurse.
This highly respected course represents your first step into a profession it is a privilege to join.
Funding – Nursing students will receive at least £5,000 a year in additional funding for maintenance and associated study costs – see NHS release.
You will benefit from our new state of the art clinical simulation and immersive suites.
We offer smaller class sizes and excellent academic and pastoral support for our students
You will have the opportunity to study on an inter professional basis alongside other nursing and allied health students.
Birmingham is one of the UK's most diverse cities outside of London, which provides you with a wide variety of experience that will be valuable to take forward into your future career.
Student finance – have you already had a student loan to study an undergraduate degree but would like to do a second degree in nursing, midwifery or the allied health professions? You may still be eligible for funding,
Our adult nursing and mental health nursing degrees will enable you to become a registered Nurse.
You will learn from a highly experienced and passionate teaching team who will provide support you to help you to achieve your ambition.
We work with a number of practice partners to give you essential practical experience on a range of clinical placements.
You will benefit from our new clinical skills suite including a state-of-the-art immersive lab.
Our nursing programmes are subject to accreditation by the Nursing and Midwifery Council.
Entry Requirements
Standard 3-year entry requirements
A-Level: 112 UCAS tariff points, with a grade profile of BBC
BTEC: Grade profile of DMM. This can be achieved from either an Extended Diploma or a combination of smaller BTEC qualifications, Other Level 3 qualifications are accepted including Access qualifications.
T-Level: A T-Level with an overall Merit grade.
Plus:
GCSE/IGCSE English language and maths grades 9-4/A*-C or equivalent
Candidates must have achieved these before commencing on the three year programme.
Candidates must also complete an Enhanced Disclosure and Barring Service (DBS) check which must be satisfactory prior to commencing the course .
The Admissions team will use the entrance criteria, as well as the personal statement, reference and work experience information, to shortlist candidates for interview. Successful applicants will be invited to an interview– Candidates will be assessed on their motivation and understanding of the role of a nurse and familiarity with the NHS Constitution and Values and the requirements of an NMC registered nurse.
Health checks
As part of the health clearance checks you will be required to provide information about your immunity and vaccination status. Candidates must prove they have been immunised against Rubella, Measles, Tuberculosis and Hepatitis B. We strongly recommend that all successful applicants (unless exempt on medical grounds) receive a full course of Covid-19 and Influenza vaccinations prior to commencing the course.
Candidates must receive a satisfactory occupational health clearance prior to commencing the course.
Course Fees
The full-time course fee for September 2023 is £9,250 per year.
The University will review tuition fees and increase fees in line with any inflationary uplift as determined by the UK Government, if permitted by law or government policy, in subsequent years of your course. It is anticipated that such increases would be linked to RPI (the Retail Price Index excluding mortgage interest payments).
Additional Costs
DBS (Disclosure and Barring Service) clearance is a mandatory entry requirement for the course.
For more information on your DBS application please click here.​
Find out more about the other additional costs associated with our undergraduate degrees. 
Additional Information
Regarding the OfS Discover Uni information below, the data displayed is from students on other courses in Subjects allied to medicine.
Because the Adult Nursing degree is new, there is no information to publish specifically for this course. This does not reflect on the quality of the course.