Counselling Studies and Working with Children, Young People and Families BA (Hons)
Honours Degree, September 2020
Key Details
BL95 Course Code
3-4.5 Years
96 Typical UCAS Tariff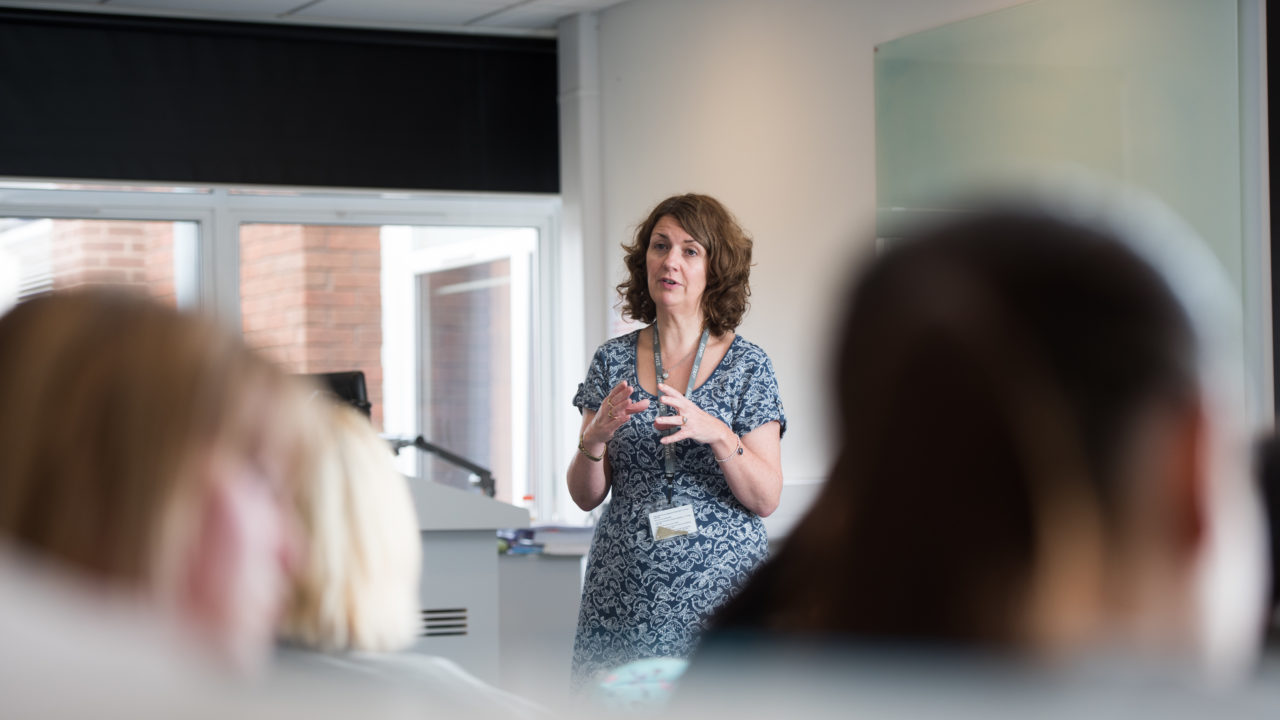 Overview
This course is subject to re-validation for September 2020 entry. Re-validation is a standard academic procedure to ensure course content is current and reflects subject area knowledge.
Counselling Studies and Working with Children, Young People and Families is a popular course combination involving the study of two different disciplines to give students the knowledge and understanding needed for a range of career opportunities.
Why study this course?
Students on the Counselling Studies and Working with Children, Young People and Families programme gain an in-depth understanding of counselling theory and its application, along with the acquisition of a range of communication skills.
Whilst it must be emphasised that this course does not provide a professional counselling training, and that graduates will not be qualified as counsellors, it does provide an excellent basis for postgraduate training as a counsellor or psychotherapist.
The course is also designed to give students a 'rounded' understanding of work with children, young people and families through interdisciplinary study, drawing on a number of social science traditions in social policy, sociology and politics – all studied in an applied way
The programme will develop graduates who are familiar with and able to critically analyse concepts around professional judgement and risk in working ethically with others
Students will learn how to negotiate the relationship between academic theory and their understanding of workplace settings and their roles within these settings
What does the course cover?
The study of counselling begins with a focus on Humanistic counselling approaches and skills. In the Working with Children, Young People and Families element of the programme students are introduced to ideas around identity as a way of thinking about individuals and communities. The programme also introduces students to social science understandings of key concepts such as childhood and family and explores the ways in which these terms have contested meanings. Key to study in the first year of Counselling Studies and Working with Children, Young People and Families is the development of sound academic skills, research literacy and reflective practice.
In the second year, students will gain a deeper understanding of research methods and develop the skills and knowledge to prepare them to engage ethically and effectively in their own research or work-based projects. In doing this, students have the choice of one of two research-focussed modules: either led by Counselling Studies, or by Working with Children, Young People and Families. Counselling Studies builds on the introduction to counselling theory with an exploration of Cognitive Behavioural Therapy and skills.  This is positioned alongside modules in Working with Children, Young People and Families that examine ideas around anti-discriminatory practice.  Through the study of Counselling, a wider perspective is taken by introducing students to philosophical bases that have influenced counselling theories and practice. In Working with Children, Young People and Families students also explore the changing nature of childhood and its implications for practitioners.
In the final year module options are intended to broaden and deepen critical thinking around Counselling and the use of counselling skills in specific contexts and Working with Children, Young People and Families and prepare students for employment or further study. Students will also choose whether to take a dissertation in either subject or the work-related capstone module within Working with Children, Young People and Families.
How will I be assessed?
The course uses a variety of assessments to help develop a range of different skills including essays, portfolios, commentaries, presentations, case studies, learning statements, critical review, projects, critiques, seminar discussion, an exam, literature critiques, counselling skills practice and recordings and commentaries, projects, research report and proposal, research dissertation and poster presentation. Assessments are designed to introduce and develop both academic and practice related skills within these disciplines.
What careers could I consider?
As a graduate you will be furnished with valuable transferable skills and an understanding of multiagency working. Many Graduates go on to a wide range of careers within education, youth work and health and social care or undertake further training for a career in which counselling skills may be useful including teaching, social work, nursing, psychotherapy and counselling. The learning on this course will benefit those considering postgraduate training in social work or professional training in counselling and psychotherapy.
Studying and living in Birmingham
Newman University is located in Britain's second city – Birmingham. With one of the youngest city populations in Europe, it is a vibrant and dynamic place to study.
Studying at Newman University, you have the advantage of being near to the city, but living in, or commuting to peaceful and comfortable surroundings on campus.
Dining out
Birmingham has lots of wonderful places to dine out with a range of different cuisines. Places where you can dine out include; Brindley Place, Mailbox and Hagley Road (just 10 minutes' from Newman).
Entertainment
Whether you like to go to; the theatre, gigs or clubs, or enjoy: sports, shopping visiting art galleries or exhibitions – Birmingham will not disappoint and you will be spoilt for choice!
Location
Getting around Birmingham is easy via train, bus or by car. Birmingham has excellent transport links to the rest of Britain, making it easy for those weekend getaways!
Why not explore the city for yourself by visiting one of our Open Days?
Want to find out more about Birmingham? Then take a look at some Birmingham City Secrets.
Applications are open for September entry
Thinking of starting your studies this September? We are currently accepting new applications. Applications to full-time courses must be made via UCAS, applications to part-time courses are made directly to Newman. For help with the application process please contact our friendly and helpful admission teams via admissions@newman.ac.uk or via 0121 476 1181 ext. 3662.
Apply Now
Contact Details
For Admissions Enquiries
For course specific enquiries
Kevin Hogan (Senior Lecturer / Programme lead for Combined Honours Counselling Studies)
Entry Requirements
You must achieve at least 96 UCAS points including a minimum of CC at A level or equivalent (e.g.MM at BTEC Diploma; MPP at BTEC Extended Diploma) towards the total tariff.
Access Students can achieve the requirements with the following combination of Distinction, Merit and/ or Pass grades at level 3 achieved from a completed Access course. 96 UCAS Points: D21-M3-P21; D18-M9-P18; D15-M15-P15; D12-M21-P12; D9-M27-P9; D6-M33-P6; D3-M39-P3; D0-M45-P0.
Five GCSEs at grade 4 (or C) or above (or recognised equivalents), including English Language, are also required.
For applicants who are unsure that they will achieve the above UCAS tariff, Newman University offers Counselling Studies and Working With Children Young People and Families (with Foundation Year) which enables such applicants to access a university degree via a four year route. Upon successful completion of their foundation year, students will progress to Year 1 of a named degree. Whilst not a condition of entry onto the Foundation Year, students wishing to follow particular named routes with additional entry requirements, will need to meet these requirements before they make the transition from their foundation year to year 1.
Applying Direct Option
You can apply direct to Newman University for the full-time route for this course if you have not previously applied to Newman University through UCAS and you are not applying to any other universities.
Simply click on this Direct Application link to do this.
N.B. will need to enter 'New User' account details when first accessing this portal.
Need help with financing?
Course Fees
Fees per academic year:
Full-time UK/EU students: £9,250 *
Part-time UK/EU students: TBC
* Fees shown are for 2020/21 academic year. The University will review tuition fees and increase fees in line with any inflationary uplift as determined by the UK Government, if permitted by law or government policy, on enrolment and in subsequent years of your course. It is anticipated that such increases would be linked to RPI (the Retail Price Index excluding mortgage interest payments).
Additional Costs
Find out more about the other additional costs associated with our undergraduate degrees.