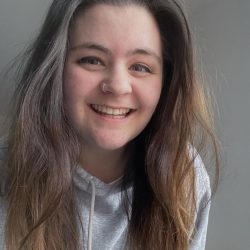 Newman Students' Union President-Elect – 2021-2022
Alex Reston was born in Burton-on-Trent but shortly moved with their mother to Barnt Green where they attended to local C of E primary and middle schools. Alex moved on to attend South Bromsgrove High School and Technology College, where they thrived in creative subjects such as Art and Theatre, completing their studies with 12 GCSEs between grades A and C, and completing A-Levels in BTEC business studies, Art, and Theatre Studies. Alex was accepted into Newman University to study Working with Young People, Children and Families.
Alex has always enjoyed the extra-curricular side of education and has been no stranger to Newman Students' Union. Alex has been on the committee for three different societies alongside being the chair of student forum during their final year of study. They also engaged in the welcome mentor team during their final year of study, helping fellow students to navigate learning and university during the pandemic. Helping other students to succeed sparked a passion in Alex as they began to look at what processes could be changed to enable students to stay at university and achieve their potential.
In March 2021 Alex was elected as President of Newman Students' Union after a very musical campaign and they now look to improve inclusion within Newman Students' Union, ensuring education is fair for all students and ensuring students are aware of the services in place to support them while they are at Newman University.