Careers Pathway 1 – Decide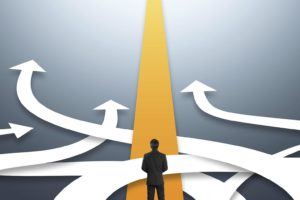 From day one it is important to develop your career management skills to help you accomplish your goals and get ahead of the game. Most professions require planning and experience in advance. You may decide something and change your mind, which is fine as that is part of the process. All you need to do is go through your decision-making process again.
Get to know yourself better:
The first stage of a career plan is knowing yourself
Consider completing the bronze level of The Award for Careers and Employability (ACE) . The bronze level of the ACE, run by Newman University Careers Service, is designed to develop key career management skills in the areas of self-awareness and knowledge of career options available.
Complete the Newman University Careers Skills Audit (the checklist is located at the end of intranet page). This will help you to identify what skills you have, where your strengths may lie and any gaps you might have.
Complete Prospects Planner quizzes. Career Planner matches your skills, motivations and desires to a career that's perfect for you. Job Match Beta involves answering questions about what you find interesting, rewarding and purposeful, then you are matched with job groups containing more than 400 job profiles. See your results in less than 10 minutes. To get even more from your results, take them to your next careers guidance appointment which you can book through your My Career account.
Have a go at some other personality tests to understand how your personality might affect what you are naturally good at, areas for improvement and possible suited career roles. Newman University careers service recommends:
Think about what motivates you in your career? Do you want to be an expert in your area and have career progression? Do you want to manage people or processes? Do you want to work independently, part of a team or both? Did you have a service/dedication to a cause? Do you want security or stability? Do you want the chance to be creative, innovative? Do you want to run your own business? Do you long for challenge? Do you want to fund your lifestyle? What motivates you will have an impact on a career that fulfils you.
Think about what your values are? Do you feel it is important to do a career that upholds your core values? Your work values are the subset of your beliefs and ideas that are related to your occupation. These core principles are an important part of who you are. They include things like honesty, service, self-respect, respect for others, and success.
Think about your practical considerations. Can you take time out to do postgraduate study? Do your ideas fit in with your personal commitments?
Know options with your subject:
Prospects – What can I do with my degree? and TARGET jobs Degree subjects, my career options. These resources will show you options related to your degree subject.
On the Careers Intranet page, we hold subject specific booklets, which highlights what Newman University graduates have gone off to do, national statistics, options with your subject and real life job examples. If you are a graduate just drop an email to: careers@newman.ac.uk and we can send you a booklet direct to your email address.
Newman University is part of the Transformation West Midlands project. If you are a final year undergraduate student or recent graduate, you may be eligible for a Careers Progression Coach to help you develop your career management skills, reach your goals and have access to exclusive opportunities such as the Transformation Fund. For more information, please email: careers@newman.ac.uk
Know options open to all graduates
There are many roles where employers value the skills and attributes of graduates from any degree subject. Explore job sectors and the opportunities open to all graduates within the different sectors: Prospects Job Sectors and Graduate career sectors: get into top professions
Look at student and graduate labour market information through Luminate
Graduate schemes are an excellent way to start to develop your career and gain progression. You can search on your My Career portal for opportunities. The careers service also recommends looking at:
Setting up your own business is an option open to all students and graduates. There is a variety of support available to help you in this process including access to the BSEEN programme.
We have a variety of careers events, fairs and opportunities that we advertise through our weekly careers email, on our Events Web page and on My Career where you can book your place and find out more information.
Search companies you might be interested in on LinkedIN.
Gain some introductory experience
Sometimes you don't know what you want to do until you have tried it. Gaining some introductory experience can be worthwhile.
Use your undergraduate work placement to explore graduate level roles, to network with the sector that interests you and develop your employability skills.
Part-time work can be really useful. Whatever your motivation, to pay the bills, gain experience in the workforce or to develop your skills, part-time work proves you have a strong work ethic and can juggle your priorities.
By giving back to your community volunteering should be rewarding and challenging and support you in your career development. Find out more about the Newman Volunteering Award programme.
The careers team at Newman can help you with searching for part-time work, work experience placements as part of your course, volunteering opportunities and ultimately your graduate level job. You can talk to an adviser, attend our events and workshops and search for live opportunities through your My Career account.
Taking Time Out
Everyone is different and for some, the juggle of making career decisions, alongside other commitments, university demands, whilst keeping happy and healthy can just feel too much. We want to support you to make the best decisions for what you need, at the right time. If you want to focus on your study and hold back on other activities for a while we would recommend meeting with a Careers Adviser to discuss making informed choices so that you can effectively plan and prepare in relation to adopting a different timeframe. Just book an appointment through your My Career account.
Seek professional support
When you are ready you can move on to the Plan stage.