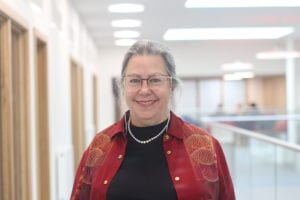 Karan trained as a nurse at Hammersmith Hospital, qualifying in 1976. She went on to practice as a Health Visitor in Wolverhampton and in 1982 was promoted to a Senior Nurse role, managing Health Visitors, District Nurses and School Nurses in a deprived area of the City.
As part of this role she developed a keen interest in Child Protection and in 1991 was appointed Designated Nurse for Child Protection, a new role in the Health Service identified as part of fundamental changes in inter-agency working and the management of children at risk of harm.
The job was an interesting mixture of strategic and of operational; sitting on the Area Child Protection Committee (forerunner of Local Safeguarding Children Boards), advising the Health Authority on all aspects of Child protection, developing policies and training programmes, delivering training, supervising Health Visitors with children on the Child Protection Register and giving day-to-day advice to anyone employed by the Health Authority who had concerns about a child.
After a short career break when her 4th child was born, in 1999 Karan started working for Children's Social Care in Wolverhampton, and then Coventry, chairing Child Protection Conferences; complex meetings with parents and professionals present whose function is to develop and regularly review a plan to keep a child deemed to be at risk of significant harm safe within the family.
Now retired, Karan lives with her husband and 3 of her 4 adult children in Birmingham. She is a practising Catholic, and actively involved in parish life at St Mary's, Harborne.
Over the years Karan has been part of the children's and the adult liturgy teams, a catechist for adults wishing to be received into the Church, an auditor for the Metropolitan Marriage Tribunal and now helps to run the repository shop.
Karan is also a Governor for the Blue Coat School, an independent prep school in Edgbaston and is Vice Chair of New Routes Fostering Panel, part of Father Hudson's Care.