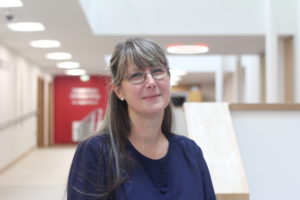 Leoarna Mathias is Senior Lecturer in Student Engagement at Newman University.  She joined the Directorate of Learning, Teaching and Scholarship in 2019 having previously lectured in Early Childhood at Newman and Plymouth Marjon University, and been an Early Years Inspector for Ofsted.
Leoarna has lead responsibility at Newman for institutional induction and welcome, the HEADs suite of transition programmes, and the institutional calendar of support for student transition.
Leoarna is also involved in the promotion and delivery of Newman's Student Staff Partnership Projects programme. She is a Senior Fellow of the HEA, mentoring colleagues to achieve Fellowship through our institutional CPD route.
She is currently undertaking a PhD by Publication and has published on Students as Partners, Induction and Transition, and Critical and Post-Critical Pedagogies. Leoarna was appointed as staff member of Newman University Council in July 2019.