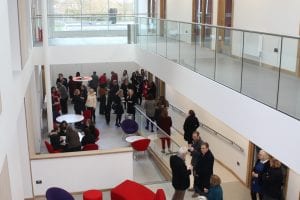 We aim to enhance the employability of all students and meet their individual and professional goals and work in partnership with organisations to meet their recruitment needs. Our students get involved in part-time work, work placements, paid internships, voluntary work and ultimately graduate employment. We work with regional, national and international employers.
Services on offer to Employers:
Free vacancy service to advertise opportunities to our students and graduates.
Attendance at careers events and fairs when appropriate.
Access to the rest of the university, notably our academic faculties, for contribution to modules and projects when appropriate.
Our current vacancy portal will be closed down as of 25th May 2018. We have a brand new system launching on 3rd September 2018.
TARGET Connect 'My Career' will be the platform Newman University Careers Service uses to allow employers to post their opportunities and for students and graduates to search for opportunities. From this one place you can manage all aspects for your vacancies quickly and easily where you can post, edit, reactivate and extend current and past vacancies. It is a free service to promote your opportunities directly with Newman University if they are in line with our policies.
Registering your organisation provides many benefits. For example you will be able to:
Enhance your organisation's profile and visibility at Newman University to employability staff and Newman University students and graduates.
Advertise suitable opportunities including graduate vacancies, work placements, part-time work, and volunteering via our online jobs board.
Look out for more information soon …