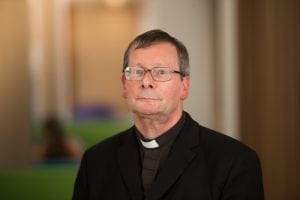 Canon David Evans is a priest of the Roman Catholic diocese of Birmingham. He is Parish priest of Our Lady of Perpetual Succour, Rednal, and Programme Director for the BA in Philosophy and the Catholic Tradition programme at the Maryvale Institute, Birmingham.
He was ordained priest in 1978, after studying at the Venerable English College and the Gregorian University, Rome, where he obtained his degree in philosophy. He served as a curate at St Mary's the Mount, Walsall, and St Aloysius, Oxford, before becoming Philosophy Lecturer and Tutor at Oscott College, the Diocesan Seminary. He taught there for eighteen years and was also Dean of Studies and Vice Rector.
From 2001, he has been Parish Priest of St Austin's, Stafford, Episcopal Vicar for Oxfordshire, Warwickshire and Coventry, a post graduate research student at Liverpool Hope University, and Parish Priest of St Teresa's, Charlbury.
He is a member of the Birmingham Metropolitan Chapter, a Judge of the Birmingham Metropolitan Chapter, and a member of the Bishops' Conference Department for Dialogue and Unity. He has served on the English Anglican- Roman Catholic Committee and the Bishops' Conference Committee for Faith and Culture.