Read what our Early Childhood Education and Care students have to say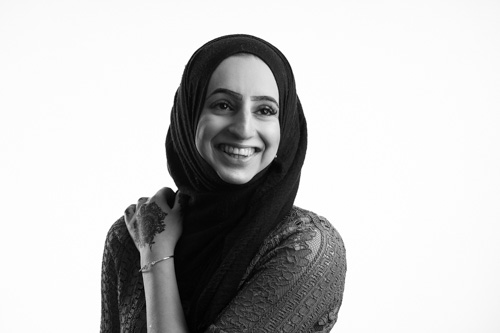 Habeebah Nasar – Early Childhood Education and Care BA (Hons)
"I have always had a strong passion to work with children but when I decided to come to university I was not entirely sure what I wanted to go into. I either wanted to go into teaching or social working. So, for that reason, I chose to study the Early Childhood Education and Care course as it was an open degree with plenty of opportunities. Also, this course makes strong links with early years settings and providers across the West Midlands.
The main reason for studying at Newman University was because Newman University is a different kind of university which has many different methods of studying. This university is a small university, which means you get the right support and are included. Teaching at Newman is not like lecturers talking at you but instead it is about getting students involved. Also, one reason for choosing this university was because if I decided to go into teaching I believed that this university is one of the best for teaching.
The course has exceeded my expectations. It is honestly crazy how much I have enjoyed studying this course. Now that I am at the end of my studies, I honestly do not want to leave. The modules have provided me with plenty of skills and experiences.
I have no words to describe the staff on the course I study. They are absolutely amazing and so supportive it's unbelievable. Also, the bond and support you get from Newman University you cannot get that anywhere else.
I have been involved in peer mentoring through my second year of university. This means that I have helped students who were in their first year and helping them with any concerns they have, whether that be academic support or helping find their way around the university.
In my second year I had to undertake a work placement for my course which meant I have to complete 192 hours at an SEN school. This project meant that I had to undertake planning, observations and collecting information from the setting related to my assignment. In addition, now that I am in my third year I am looking at how children with autism are supported in SEN schools. This means that I will be collecting data useful to my dissertation question. This will also further my knowledge and experience in this field.
When I finish my degree, I have a job opportunity already waiting for me, I have been given a job in the special needs school which I undertook my work placement at.
My advice for future students would be that Newman University is the best university to study at. If it wasn't for Newman I wouldn't be where I am today. I recommend making the most of the student support, your lecturers by making sure to ask questions and finally just be yourself."
Sophie Mullings – Early Childhood Education and Care BA (Hons)
"Newman was recommended by a friend who had studied at another university, bur recommended Newman on what she had heard.  I also live local, so it seemed perfect for me.
I had been a volunteer in a stay and play setting for 7 years previous to applying to university.  I was also a parent governor for 5 years; I was the designated early years and literacy lead governor.  I have three children myself and my eldest has Special Educational Needs, so early years and SEN are my love and passion.
I really was not sure what to expect from my course when I started but it has done a lot more for me as a person that I would have ever thought.  I feel it has developed me both as an early years practitioner and as a mother.  My youngest is a toddler and it has been fun working with him using what I am learning on my degree.
The staff in the Early Childhood Education and Care department are such a strong, close team.  When my children and I had a massive house fire, they, and staff from all around the university, were an amazing support; above and beyond what you would expect from a university.  The support remains, and is amazing.
After my fire I was supported regularly by the Chaplain.  The university also organised fundraising for me and gave me student support fund money.  I also have been supported in being granted disability support.  This means I have equipment that helps me study with anxiety and I have a weekly mentor.  I have accessed support like the mental health advisor and welfare advisor.  The help is first class and very easy to access.
I am currently a student rep for my course, allowing me to speak with my peers to gain student feedback on different areas of the degree.
Upon completion of my degree I will be looking to move into a support role with young children with social problems or SEN, possibly a mentor or family support role. I also plan to develop a programme for relaxation for young children, to support mental health.
If you want to study at a university that is innovative, fresh and committed to you as a person, Newman is the place.  The support goes beyond achieving a degree.  There is a community feel here that was missing when I attended a larger university a few years ago.
The lecturers are very supportive in ensuring that no barriers are in the way of being able to study.  My toddler attends a lovely nursery that is on campus and as a mature student these things matter a lot to me.  Staff know my children in this university and it has made my children want to attend Newman.  To me that is an amazing testament to an awesome institution."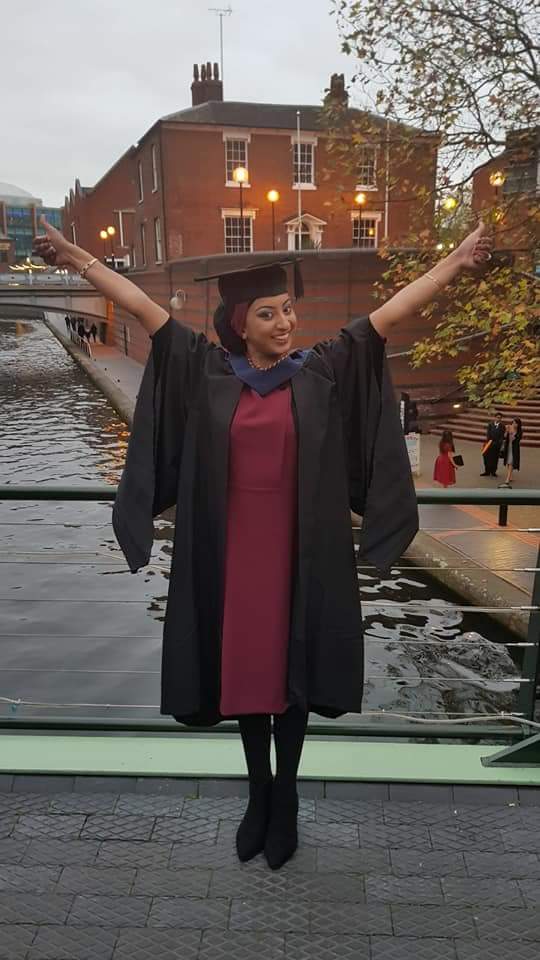 Amreen Akhtar – Early Childhood Education and Care BA (Hons) Alumna
"I studied my Early Childhood Education and Care degree at Newman University after completing my Health and Social Care qualifications at college.
I started at Newman in 2009 and due to a variety of health issues which affected my studies I had to defer before being able to complete my degree and graduate in 2017.
Student support and my supervisor, alongside other staff members from the Early Childhood Education and Care team, helped and supported me a lot. Especially when I had to apply for mitigating circumstances student support team gave me all the help that I needed and also understood my health condition, they understood how I felt and listened to me. I can't thank the staff enough. When I felt like giving up they listened to me and helped build up my confidence, they helped me keep strong and think positive. By doing this my motivation increased and made me feel positive in myself that made me think 'YES I CAN DO THIS'.
I met a number of people on my journey at Newman and I remain friends with many of those I met when I first started in 2009. I had the most amazing time at university, met lovely lecturers and made many friends.
My proudest achievement is that despite everything that happened with health I managed to get my degree. This was something that I really wanted; it was like a dream come true for me. I feel proud of myself.
I now work as a Teaching Assistant and hope to progress within my career and work with children in a nursery or primary school setting."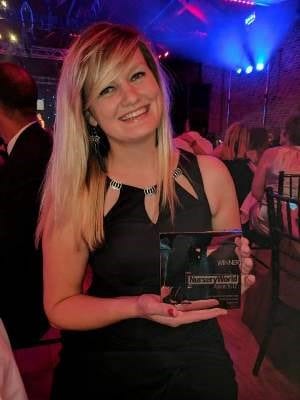 Dovile Baikauske – Early Childhood Education and Care BA (Hons) Alumna
I moved to the UK from Lithuania in 2007 aged just 16. At that time my English was limited and I could only read and write simple sentences.
I worked hard to learn the English language and from then I enrolled to study at Sandwell College and upon completing my Level 2 and 3 Childcare and Education I knew that I wanted to go to university but was concerned that my level of English would not meet the entry requirements.
After hearing about Newman's excellent reputation for teacher training, I applied through UCAS and was delighted when I was offered a place. Before beginning my course I was offered a place on the HEADstart programme which gives students the opportunity to see what university life is going to be like and equips students with the skills needed to study effectively and successfully during their time at university. I was very thankful to have such support right from the start.
After completing the HEADstart programme, I began my Early Childhood Education and Care BA (Hons). I made use of the facilities on offer at Newman, I loved the library! The amount of literature, books, journals and electronic resources that were provided was amazing!
All the staff made me feel welcome. As an EAL student there were many questions I had, misunderstandings or simply confusions. But there always was someone I could approach to talk or clarify things. I loved coming to Newman.
In addition, it was very inspiring to see that each lecturer had their own interest of Childcare field that they were passionate about, they carried out trips to other countries and research to provide newest and highest quality information – I believe this has prompted me to think about what is my passion in this field and made me realise how important it is to never stop learning.
During my last semester at Newman, I began working as a nursery practitioner and after successfully completing my degree, gaining a 2:2 classification in 2013, I applied for a room leader position at a local nursery.
I believe it is the skills I gained at Newman that resulted in my success in securing the position. In just 7 months I was promoted to Nursery Operations Co-ordinator, and 6 months after I was promoted to a Nursery Deputy Manager.
In April 2016 I became a Nursery Manager, and in October 2016 the nursery won Best Nursery in Sandwell 2016 award.
I also have been involved in setting up one of the biggest new nursery settings in Sandwell –Fireflies Nursery, which I now manage. I currently have a team of 12 staff and 3 students, with nursery catering for up to 96 children. In September 2017 Fireflies Nursery won the national Nursery World award for Early Years Launch of the Year. It also has been nominated for Outstanding Business of the Year award at ABCC Awards in Birmingham. I also have been involved in mentoring students' at all different levels of their childcare studies including Early Years Teacher trainees.
In addition, I have recently been part of the founding team for new project launch; United Nurseries of Sandwell, through Smethwick Youth and Community Centre) – uniting nurseries for joint fundraising over the year for a chosen charity, while also promoting healthy lifestyles for staff and parents."
Henna Ramzan – Early Childhood Education and Care
"My experience at Newman University has been incredible. The amount of support from both the campus and my course made it one of the best experiences of education as a student.
"Newman in general has given me the confidence to ask for help when i need it. My health and wellbeing was supported throughout, especially when an unexpected situation came up during my course.
"Also, the academic support team and writing mentors helped me to achieve marks I ever thought possible when I first started my course. Newman is known as a supportive and caring environment and implement the best for its students."
View our Early Childhood Education and Care courses
Courses