Marie Rowlands recognised for services to Catholic history
10/03/2020 by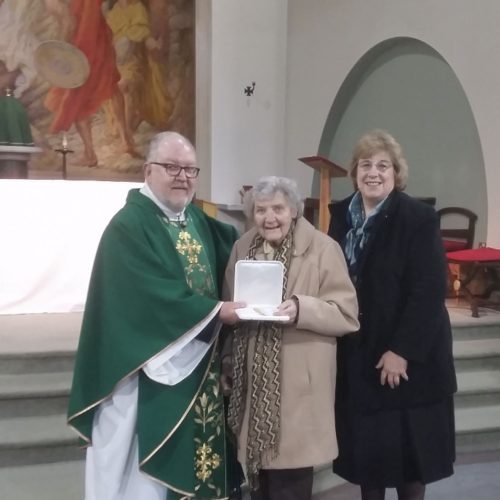 [pictured: Fr Cecil Rogerson, parish priest of Our Lady and St Brigid's, Northfield, Marie Rowlands and Professor Judith Champ]
Emeritus Research Fellow and former Head of History at Newman University, Dr Marie Rowlands has been awarded with the Bene Merenti Medal for her services to Catholic history. The Bene Merenti Medal is awarded to two to three members of the clergy and laity each year by the Pope for services to the Catholic Church.
Dr Rowlands has achieved great recognition in the academic world as a professional historian. For over six decades she has placed those gifts at the service of the Catholic Church in this country, and especially in her home of the West Midlands. Her research and publications have changed our perception of the role of laypeople, particularly women, in fostering the life of the Catholic community in this country and in educating the young in the centuries following the Reformation. Dr Rowlands is currently working on an article which focuses on Catholic education in England, 1791-1840 and, in October 2018, she hosted the 'Building the Fortress: Catholics in provincial towns, 1778-1840' conference at our Bartley Green campus, attracting scholars of Catholic history from across the UK.
Dr Rowlands has served the Church and the wider community within education for over sixty years. She holds an MA from the University of Birmingham and a PhD from Aston University. Dr Rowlands was Head of History at the then Newman College between 1969 and 1989, and national Chairman of Our Lady's Catechists. She is now Emeritus Research Fellow at Newman University and is a member of the Humanities Research Centre.
Newman University's Head of Theology, Professor Sue Docherty, commented: 'Generations of History PhD students and Catholic teachers who have studied at Newman University and beyond acknowledge their debt to Dr Rowlands for her unfailing support of their work, her generous sharing of her own acumen, and her genuine enthusiasm for discussing new ideas.'
Long-standing friend and former student of Dr Rowlands, Professor Judith Champ, Professor in Church History at St Mary's College, Oscott, presented Dr Rowlands with the Bene Merenti Medal on 22 February 2020 in recognition of her contribution to Catholic Life and Witness in the Midlands.