Newman University Council Member appointed as Auxiliary Bishop
18/03/2020 by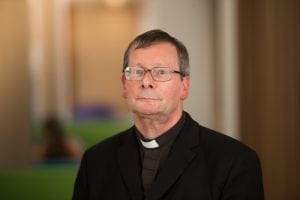 Rev Canon David Evans, a valued Council Member at Newman University since June 2011, has been appointed as the new Auxiliary Bishop to serve Birmingham Archdiocese along with Canon Stephen Wright.
The Holy Father Pope Francis made the appointment of both Auxiliary Bishop's following Bishop Robert Byrne's appointment to Hexham and Newcastle in March 2019 and Bishop David McGough's retirement on reaching the age of 75.
Archbishop Bernard Longley will celebrate the Episcopal Ordination of Bishops Elect David and Stephen at St Chad's Cathedral at 12 noon on Wednesday 10 June.
Following his Episcopal Ordination, Canon David will continue to have pastoral responsibility for the deaneries in Birmingham and Worcestershire. With Newman University at the heart of this pastoral area we look forward to continuing to work closely with Canon David and offer him our heartfelt congratulations and support as he prepares to take on this new role.
Archbishop Bernard, also a member of the University Council, said: "I am very grateful to Canon David and Canon Stephen for their readiness to serve the Archdiocese as Auxiliary Bishops. Our two new bishops will each bring considerable pastoral experience as Parish Priests to their new role. I am grateful to Canon David for serving several years ago as Episcopal Vicar for Coventry, Warwickshire and Oxfordshire and for caring for the Birmingham and Worcestershire parishes since last September, alongside his teaching responsibilities at the Maryvale Institute. In these troubling and uncertain days it is a blessing for us all to have two new bishops to help unfold the Lord's plan for our Archdiocese in the years ahead and to care for our clergy and people."
Bishop Elect David Evans said: "After getting over the surprise of being told that I had been appointed an auxiliary bishop of Birmingham, I am looking forward very much to collaborating with Archbishop Bernard, in all that he is doing to preach the Gospel in the diocese and beyond. With St Chad and St Cuthbert to guide me, and with the prayers of priests, deacons and people, I hope to be a humble, diligent and receptive servant of the Church.  I hope that will do."