Senior Lecturer, Dr Stefan Lawrence, sees book published
19/05/2022 by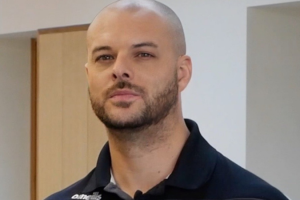 Dr Stefan Lawrence, Senior Lecturer in Sport and Health at Newman University, will see another book published this Autumn.
Digital Wellness, Health and Fitness Influencers: Critical Perspectives on Digital Guru Media follows a number of published works by Dr Lawrence, including his recent book Digital Football Cultures: Fandom, Identities and Resistance (Advances in Leisure Studies) which looks at the challenges and opportunities for leisure studies produced as a result of the digital revolution.
Digital Wellness, Health and Fitness Influencers examines the phenomenon of 'digital guru media' (DGM), looking at influencers, life coaches, experts and entrepreneurs who are providing an online commentary around the topic of health and fitness.
The book follows the announcement of the formation of Newman University's School of Nursing and Allied Health, providing state-of-the-art nursing and physiotherapy facilities, including an immersive room designed to recreate the experience of working in busy health environment and using enhanced realism to train and teach students. As well as enabling students to become compassionate professionals who can assess and manage the health needs of people, each programme will help students to gain an understanding of the political, social and economic factors that are influencing the current and future delivery of physiotherapy, health and social care services.
Stefan's book explores the impact of digital and social media on our health-related learning, and considers the social, cultural and psychological implications of our increased use of digital media and the Internet.
Dr Lawrence commented, "Many of us are now spending more of our leisure time searching for wellness, health and fitness content, online, by way of podcasts, videos, memes and blogs. I use the Digital Guru Media in this book to refer to myriad self-styled life coaches, experts, entrepreneurs and internet celebrity influencers, all of whom are posting in the digital realm about a variety of topics from sport and fitness to beauty and commerce.
"I was humbled to work with an international cast of authors on this and we've produced a collection that begins a conversation about our fascination with digital media, leisure and wellness, health and fitness cultures."
The book includes chapters from colleagues at the University, Tony Myers, Professor in Quantitative Methods and Stephen Pihlaja, Reader in English Language and Linguistics.
Speaking of his chapter, Just a New Slant on a Very Old Story? Digital Guru Media Seen Through an Evolutionary Lens, Professor Myers commented, "There is growing evidence that young people are turning to social media for information on health and fitness related matters. I use an evolutionary perspective to explore which influencers we put our trust in and why, as well as looking at what advice this perspective offers followers and would-be influencers."
Stephen Pihlaja, Reader in English Language and Linguistics at Newman University and author of the chapter titled Swoldiers in the Swole Nation: YouTube Fitness Vlogs and the Performance of Mental Health, Strength, and Happiness on Social Media, looks at how social media influencers build relationships with their viewers and leverage those relationships to build their own brand and popularity.
Dr Lawrence's book release follows the publication of the Research Excellence Framework (REF) 2021, a thorough assessment of the quality of universities' research in all disciplines. Five subject areas including Sport, were assessed to produce work of 'world-leading' quality, with the external social impact of Sport rated as 'internationally excellent'.
Digital Wellness, Health and Fitness Influencers: Critical Perspectives on Digital Guru Media is now available to pre-order from Routledge.