Student led Open Dorz praised by local Labour party
04/05/2020 by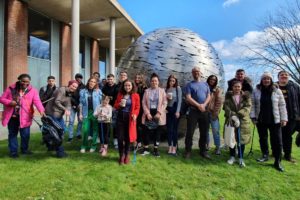 Emily Ashmore, student at Newman University, set up Open Dorz whilst studying to make a difference in the local community, tackling issues such as homelessness, environmental issues, as well as putting on events for families including free film screenings and family fun days.
The aim of the work completed by Open Dorz is to show members of the local community what opportunities are available to them. "If you've got one person behind you," says Emily, "you can break down barriers. We want to encourage people and help them to believe in themselves."
Open Dorz's work has recently received praise from local Labour member, Marcie Winstanley, who also joined Emily and her team on a litterpick before lockdown.
Marcie commented, "I was really impressed with the community spirit and inclusivity of Open Dorz's approach. I look forward to working with them further to make our community spaces happier, greener and more sustainable."
The story was shared in the Bartley Green monthly news bulletin for residents for May.