National Collaborative Outreach Programme (NCOP) brings together 29 partnerships of universities, colleges and other local partners to deliver outreach programmes to young people in years 9-13.
Newman University is proud to be part of the NCOP programme and since the programme began in 2017, the University has contributed to the lives of many young people within the local Birmingham area. NCOP allocates the involved universities with partner schools; Newman University works with Bartley Green School, St Thomas Aquinas School, Cardinal Wiseman School, North Birmingham Academy, Turves Green Boys School & Waseley Hills High School.
What are the aims of NCOP?
The aim of the programme is to reduce the gap in higher education participation between the most and least represented groups and support young people to make well-informed decisions about their future education.
How does Newman University's NCOP team help achieve this?
Newman University runs a number of events for its partner schools, which have included UniFest, Get Moving – an insider into sports, CSI Birmingham – in conjuction with Pulse CSI who put on an interactive day into the world of forensics, Step into the Arts – a performing arts focus visit to London for sixth formers.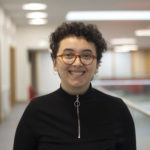 Mickie McNally – NCOP Outreach Programme Manager
"The HE sector can be a minefield filled with plenty of misconceptions, so it's vital to us to work with the young generation of students to provide them with the tools and information to make an informed decision about their futures. Through the events we host and immense amount of hard work from my team in schools, we hope to continue to make a difference and inspire students to consider university."
To find out more about the NCOP programme visit the Office for Students website.