PGCE Primary Education 3-11
PGCE Primary with QTS, Postgraduate, September 2023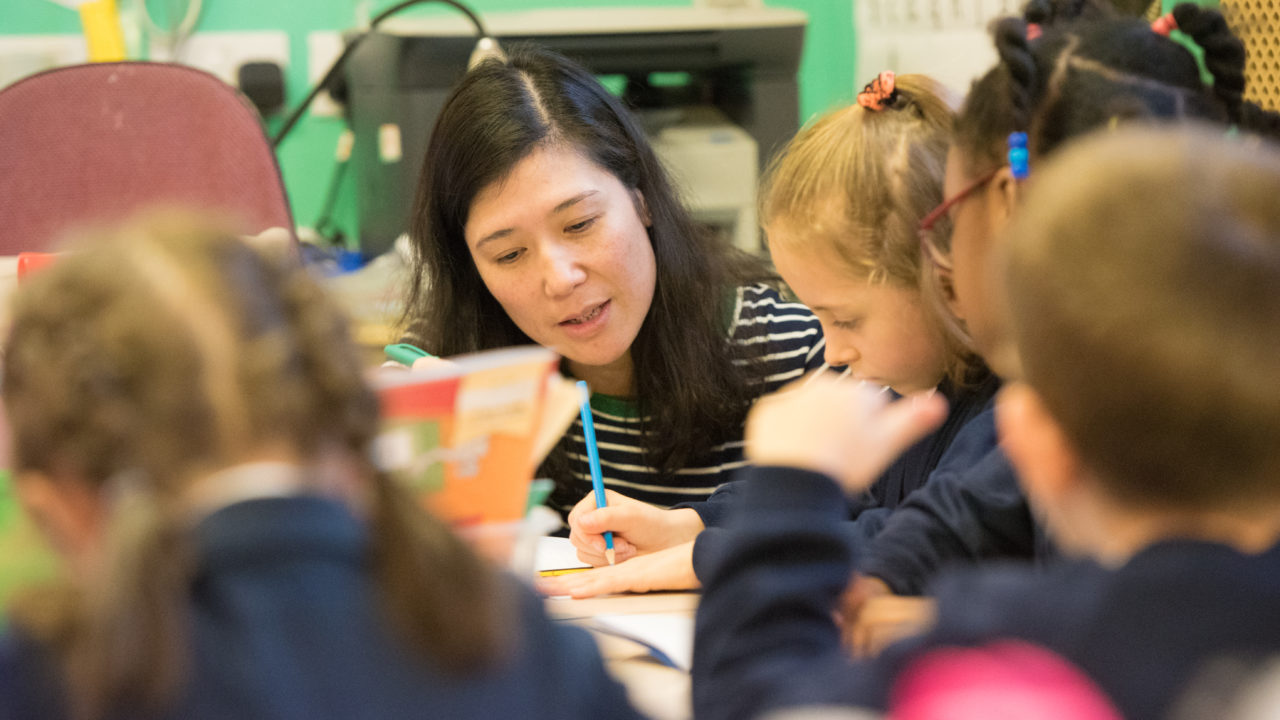 Applications for September 2023 can be made via DfE Apply from the 4th October 2022.
Choosing to study a PGCE in Primary Education is your first step to inspiring children in learning about their world, and at Newman University, we would love to support you in joining the profession. We understand that the Primary 3-11 age range is a crucial time for children's development and learning. It is at this formative and particularly receptive stage of development that attitudes towards learning are formed, attitudes that will impact future life course development.
The PGCE Primary (3-11) is designed to prepare you for teaching across the Primary age range. There are three modules developed to support your knowledge and understanding of theory, policy and practice, including the Early Years, National Curriculum and SEND frameworks.
Two level 7 modules are linked to children's learning and development as well as curriculum, assessment and pedagogy and you will study these consecutively in the first and second term. The final training module, studied across all three school terms, enables you to observe, reflect on and then undertake the role of the teacher in the Primary phase. The course will enable you to meet the requirements for Qualified Teacher Status (QTS).
For those wishing to work within Catholic schools, or who wish to develop their understanding of Religious education, there is also the opportunity to undertake the Catholic Certificate in Religious Studies (CCRS) – see Additional Information for details.
All PGCE Primary 3-11 students at Newman University study the same mandatory core module. The second level 7 module you will study is dependent on your chosen age phase (3-7, 5-11 or 7-11) and training route: guidance will be provided on enrolment to ensure you are registered on the correct module.
You will learn the principles of curriculum design and delivery, and theories of learning and teaching, alongside developing practical insights and skills in the effective teaching and assessment of young children. You will study three modules: two level 7 modules, worth 30 credits each, and a non-credit bearing professional module which includes university-training and work-related experience in school settings.
School-based training is central to the PGCE programme and will be a feature of all three terms of your PGCE year. You undertake placements in at least two primary schools, providing opportunities to observe and practise a range of methods and approaches.
School-based learning includes observation of experienced teachers, a structured programme of group and whole class teaching and a series of directed activities to explore wider school issues. In order to support your professional development, this work-related study is organised into three stages: Understanding Professional Practice, Managing the Classroom and Meeting the Teachers' Standards. Each stage supports your transition from trainee to Early Career Teacher through clear guidance and shared expectations.
Newman Initial Teacher Education graduates have a high employment rate and are well respected in the region and beyond. Most students take up a position in teaching, although some pursue other careers using the range of transferable skills gained during study. Our graduates have secured employment in a variety of settings and many roles such as subject lead, senior leadership, international posts and consultancy.
On successful completion of the course including demonstrating the required teaching standards, you will be recommended for Qualified Teacher Status with the Department for Education, who confer QTS, ready to start your first teaching job. After your successful completion of the PGCE at level 7, you will also be invited to enrol on the Masters programme to continue your postgraduate studies and support your professional development.
Newman University is located in Britain's second city – Birmingham. With one of the youngest city populations in Europe, it is a vibrant and dynamic place to study.
Studying at Newman University, you have the advantage of being near to the city, but living in, or commuting to peaceful and comfortable surroundings on campus.
Dining out
Birmingham has lots of wonderful places to dine out with a range of different cuisines. Places where you can dine out include; Brindley Place, Mailbox and Hagley Road (just 10 minutes' from Newman).
Entertainment
Whether you like to go to; the theatre, gigs or clubs, or enjoy: sports, shopping visiting art galleries or exhibitions – Birmingham will not disappoint and you will be spoilt for choice!
Location
Getting around Birmingham is easy via train, bus or by car. Birmingham has excellent transport links to the rest of Britain, making it easy for those weekend getaways!
Why not explore the city for yourself by visiting one of our Open Days?
Want to find out more about Birmingham? Then take a look at some Birmingham City Secrets.
Ask Us a Question
Entry Requirements
From 4th October, students are able to apply for PGCE courses on DfE Apply.
We recommend an application is made as early as possible, once the DfE portal has opened.
A UK Bachelors Degree (or recognised equivalent qualification).
GCSE English Language, Mathematics and Science at grade 4 (or C) or above (or recognised equivalents). Please be aware that whilst these GCSEs are not mandatory at application point, these qualifications must be obtained by enrolment. See our page for additional GCSE equivalency information.
Students will also be required to be assured against a set of fundamental maths and English skills by the end of their initial teacher training.
For further information about the Interview Process see our Progression Route ITE Interview page.
You will need to obtain Disclosure and Barring Service (DBS) clearance and meet the requirements for fitness to train to teach prior to starting the course. For more information on your DBS application please visit the How do I complete my DBS form advice page.
International Students
Newman University is not licensed by the UK Government to sponsor migrant students under the Student route and is therefore unable to accept applications from international students at present.
If you have any questions regarding entry onto this course please contact our friendly and helpful admissions team via our Admissions Enquiry Form
Course Fees
The full-time course fee for September 2023 is £9,250.
The University will review tuition fees and increase fees in line with any inflationary uplift as determined by the UK Government, if permitted by law or government policy, in subsequent years of your course. It is anticipated that such increases would be linked to RPI (the Retail Price Index excluding mortgage interest payments).
Find out more about the other additional costs associated with our undergraduate degrees. 
Additional Information
To ensure that the course content is as up-to-date and relevant to current teaching theory and practice as possible, this course will be re-validated at least every five years or sooner, if external changes require it.
Work-related placements in school and visits to other education settings will require some travel. Placements may be 1 hour 30 from a student's term-time address.
If you are interested in working in Catholic schools or simply wish to keep options open for the future then why not consider the Catholic Certificate in Religious Studies? Past students have found it extremely helpful regardless of religious belief. For more information please visit the webpage or contact course leader Eamonn Elliot directly e.w.elliott@newman.ac.uk
General Academic Regulations: Terms and Conditions for students attending our courses