PGCE Primary Physical Education (3-11)
PGCE Primary with QTS, Postgraduate, September 2023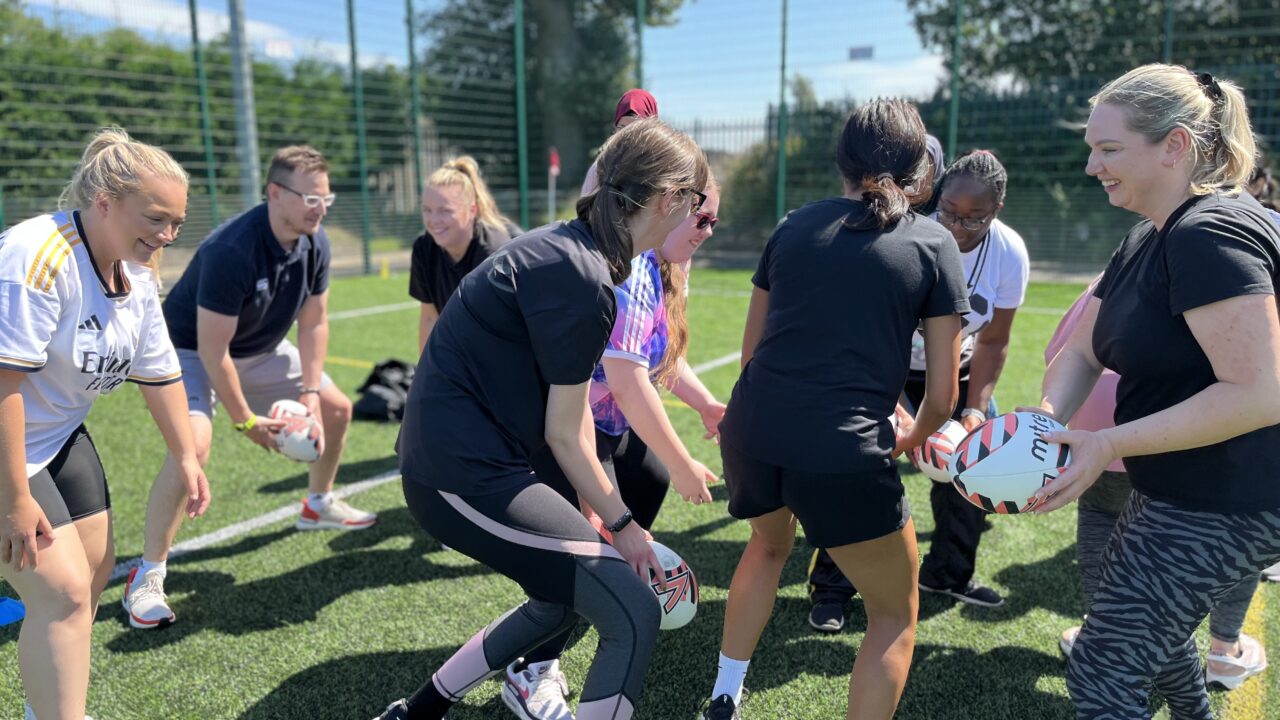 If you are passionate about physical education and believe it should be placed at the forefront of a primary school setting, then our PGCE Primary Physical Education 3-11 specialist route is for you. This pathway is embedded within our successful primary PGCE programme and aligns closely with our vision for ITE, as we aim to produce highly qualified future professionals who add value to wider society and the lives of others. The course recognises the significance that the Government places on PE in today's primary curriculum, particularly as funding for PE, school sport and physical activity continues to be offered to primary schools in England. In order to develop high quality subject knowledge in primary PE, trainees on this programme will undertake a PE specialist masters module and will also have the opportunity to attend specialist PE training in a variety of activities.
In addition to specialist PE input, you will also undertake a masters module in the theory and practice of learning and teaching. Trainees will undertake three school-based placements during the academic year and will engage in university-based training on behaviour management, pedagogy, all primary curriculum subjects, and assessment. This course will enable you to meet the requirements for qualified teacher status (QTS).
This course is offered subject to validation.
Our PGCE Primary Physical Education 3-11 course has been endorsed by the Association for Physical Education in recognition of the consistently high quality provision it provides. Our PE specialist input is led by experienced tutors who are at the forefront of research. We have an ambitious primary PE curriculum that focuses on children moving and acquiring skills, we help to inspire schools across the West Midlands and beyond to implement our vision for primary PE and you could be part of this positive movement. Over the course of the year, you will spend a minimum of 120* days in school, in at least two school settings. You will develop your knowledge, practice and leadership of primary PE in a range of settings, as well as having opportunities to reflect upon your practice with PE specialist colleagues. We will provide personalised support that is tailored to meet your individual needs and interests, helping to prepare you for the Early Career Framework and beyond.
*120 days in school maybe subject to change by the DfE.
What does the course cover?
 All PGCE Primary Physical Education 3-11 students will study three modules: two level 7 modules, worth 30 credits each, and a non-credit bearing professional module which includes university-training and work-related experience in school settings. All parts of your study will be based on Newman's five main themes: role of the teacher, teaching, learning and assessment, adaptive practice, understanding and managing behaviour, and curriculum subject knowledge.
Studying at level 7, the PE masters module is designed to enhance knowledge and understanding in more specialised areas of primary PE. Students will develop their critical awareness of pedagogical practice and current issues in primary PE, school sport and physical activity. Module sessions will be both practical and theory based. The specialist PE module also aims to provide students with the opportunity to develop their leadership skills through an enquiry-based school project. Throughout the training year, you will attend additional PE training in a range of activities to further enhance your specialist knowledge.
Alongside the PE focus, you will undertake a second masters module based on the theory and practice of teaching and learning. This module will allow you to explore and understand in theoretical and practical terms the meaning of teaching and learning in the context of education and being a teacher. The module will help you to understand the holistic and positive role of a teacher and the practices and policies of the education framework. Implicit in this will be the development of your understanding of your personal teacher identity and the impact on pupil outcomes.
In the non-credit bearing university sessions, you will develop your knowledge and understanding of primary education across both the core and foundation subjects. A focus will be placed on curriculum design, delivery, theories of teaching, developing practical skills and the effective assessment of young children. Students will have additional sessions relating to the wider curriculum and professional development.
School-based training is central to the PGCE Primary Physical Education programme and will be a feature of all three terms in your training year. You will undertake placements in at least two primary schools, providing opportunities to observe and practise a range of methods and approaches. You will work closely with the PE co-ordinators in schools to gain a deeper insight into their leadership role. School-based learning includes observation of experienced teachers, including a focus on PE, a structured programme of group and whole class teaching and a series of directed activities to explore wider school issues. In order to support your professional development, this work-related study is organised into three stages: Understanding Professional Practice, Managing the Classroom, and Meeting the Teachers' Standards. Each stage supports your transition from trainee to Early Career Teacher, specialising in primary PE, through clear guidance and shared expectations.
Student achievement is assessed through a wide range of methods. You will be assessed both on university-based content and school-based practice.
School-based placements will be assessed through reflective conversations, reviewing, and discussing your planning and assessment records, observing your teaching, gathering the perspectives of other colleagues and the children you work with. Over the course of the year, you will also gather evidence in an electronic portfolio that demonstrates your ability to meet the Teachers' Standards (DfE, 2012).
University based content will be assessed through a report, portfolio of tasks, e-portfolio evidence, reflective accounts, and subject audits.
You will be given clear assessment guidance and feedback to help you set targets and identify actions to help you make further progress.
Newman Initial Teacher Education graduates have a high employment rate and are well respected in the region and beyond. Most students take up a position in teaching, although some pursue other careers using the range of transferable skills gained during study. Our graduates have secured employment in a variety of settings and many roles such as subject lead, senior leadership, international posts and consultancy.
On successful completion of the course including demonstrating the required teaching standards, you will be recommended for Qualified Teacher Status with the Department for Education, who confer QTS, ready to start your first teaching job. After your successful completion of the PGCE at level 7, you will also be invited to enrol on the Masters programme to continue your postgraduate studies and support your professional development.
Newman University is located in Britain's second city – Birmingham. With one of the youngest city populations in Europe, it is a vibrant and dynamic place to study.
Studying at Newman University, you have the advantage of being near to the city, but living in, or commuting to peaceful and comfortable surroundings on campus.
Dining out
Birmingham has lots of wonderful places to dine out with a range of different cuisines. Places where you can dine out include; Brindley Place, Mailbox and Hagley Road (just 10 minutes' from Newman).
Entertainment
Whether you like to go to; the theatre, gigs or clubs, or enjoy: sports, shopping visiting art galleries or exhibitions – Birmingham will not disappoint and you will be spoilt for choice!
Location
Getting around Birmingham is easy via train, bus or by car. Birmingham has excellent transport links to the rest of Britain, making it easy for those weekend getaways!
Why not explore the city for yourself by visiting one of our Open Days?
Want to find out more about Birmingham? Then take a look at some Birmingham City Secrets.
Dr Emma Powell and Dr Lorayne Woodfiled are the creators of the SHARP Principles (Powell, Woodfield and Nevill, 2016), which have been designed to enhance the quality of physical education and are research-informed. The SHARP Principles place a focus on active learning time in lessons which provides the children with opportunities to practice their movement skills. Practitioners can apply the SHARP Principles to their existing planning.
The SHARP Principles have increased moderate to vigorous physical activity in PE lessons to 75% (average) of lesson time and are the most effective in comparison with similar strategies.
Our SHARP Principles have been shared internationally with practitioners in Luxembourg, New Zealand, Singapore and countries in the Americas, and also with some national sport organisations and community sporting foundations in the UK.
Selected SHARP resources are available free of charge to support practitioners with the planning and delivery of active physical education lessons.  Practitioners can view the YouTube video here and request the resource cards from our online store.
Contact Dr Emma Powell or Dr Lorayne Woodfield for more details.
Find out more about the SHARP Principles here.
Related publications:
Powell, E., Woodfield, L.A. and Nevill, A.M. (2016) Increasing children's physical activity levels in primary school physical education: the SHARP Principles Model. Preventive Medicine Reports. http://www.sciencedirect.com/science/article/pii/S2211335515001643
Powell, E., Woodfield, L., Powell, A., Nevill, A. (2020) Assessing the wider implementation of the SHARP Principles: Increasing physical activity in primary physical education. Sports, 8(6)  https://www.mdpi.com/2075-4663/8/1/6
Ask Us a Question
Clearing 2023
Call our Clearing hotline now to see if we can offer you a place to start this September. 
If on results day you wish to re-consider your choice and want to choose Newman University, you can apply to us over the phone (+44 121 476 1181) , on LiveChat or through Whatsapp.
You can also join us on Saturday 19th August for an Open Day to look around the facilities and talk with subject and support staff. No need to book, simply turn up.
Find out more
Entry Requirements
Applications for PGCE courses are made via  DfE Apply.
A UK Bachelors Degree (or recognised equivalent qualification).
GCSE English Language, Mathematics and Science at grade 4 (or C) or above (or recognised equivalents). Please be aware that whilst these GCSEs are not mandatory at application point, these qualifications must be obtained by enrolment. See our page for additional GCSE equivalency information.
Students will also be required to be assured against a set of fundamental maths and English skills by the end of their initial teacher training.
For further information about the Interview Process see our Progression Route ITE Interview page.
You will need to obtain Disclosure and Barring Service (DBS) clearance and meet the requirements for fitness to train to teach prior to starting the course. For more information on your DBS application please visit the How do I complete my DBS form advice page.
International Students
Newman University is not licensed by the UK Government to sponsor migrant students under the Student route and is therefore unable to accept applications from international students at present.
Course Fees
The full-time course fee for academic  year starting September 2023 is £9,250.
The University will review tuition fees and increase fees in line with any inflationary uplift as determined by the UK Government, if permitted by law or government policy, in subsequent years of your course. It is anticipated that such increases would be linked to RPI (the Retail Price Index excluding mortgage interest payments).
Find out more about the other additional costs associated with our undergraduate degrees. 
Additional Information
To ensure that the course content is as up-to-date and relevant to current teaching theory and practice as possible, this course will be re-validated at least every five years or sooner, if external changes require it.
Work-related placements in school and visits to other education settings will require some travel. Placements may be 1 hour 30 from a student's term-time address.
If you are interested in working in Catholic schools or simply wish to keep options open for the future then why not consider the Catholic Certificate in Religious Studies? Past students have found it extremely helpful regardless of religious belief. For more information please visit the webpage or contact course leader Eamonn Elliot directly e.w.elliott@newman.ac.uk
General Academic Regulations: Terms and Conditions for students attending our courses
Accreditations
This programme is accredited by The Association for Physical Education (afpe.org.uk), who noted the outstanding quality of our application.