Primary Education (3-11) BA (Hons) with QTS (with Foundation Year)
Honours Degree with Foundation Year, Undergraduate, September 2022
Key Details
X30F Course Code
4 Years
48 Typical UCAS Tariff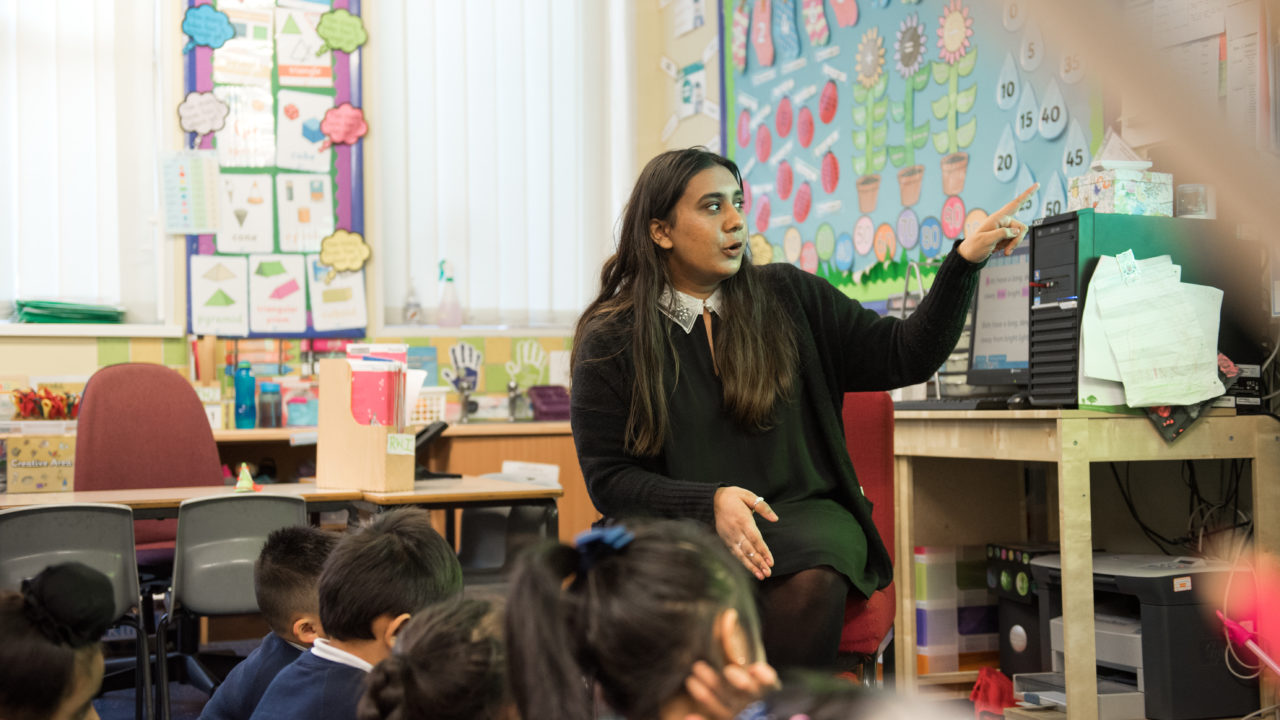 Overview
For January 2022 we are offering a fast-track first year for this course. You will enrol in January, and study through to July, preparing you to successfully progress onto your chosen degree pathway in September 2022. For further information about the fast-track route please visit the main Foundation Year page.
Newman University offers an innovative foundation year to complement our Undergraduate Degrees. Our Foundation Year is the first year of a four-year degree. Completion of the Foundation Year leads into the first year of the 3 year degree in Primary Education (3-11) with recommendation for QTS.
The foundation year provides an alternative route to an undergraduate degree for those unable to meet the traditional entry requirements for a three-year degree and for those looking to build their confidence and academic skills.
You apply via UCAS for the Primary Education (3-11) with recommendation for QTS (with Foundation Year) course and after successfully completing the first year you will progress onto the final three years of the degree. At this point there may be the opportunity to transfer onto a related degree at Newman University. Such a transfer is subject to the agreement of the course tutor and meeting any additional entry requirements.
Primary Education 3-11 with QTS
During your Initial Teacher Education (ITE) course with us, you will undertake a range of modules which will equip you to become an effective and creative teacher across the full age range in order to achieve the professional standards required for Qualified Teacher Status (QTS). The first year of the programme provides a secure basis for practice across the full primary curriculum and age range. In the second and third year of the programme, you will have the opportunity to develop expertise in either the 3-7 or 5-11 age phase and explore curriculum areas of particular interest.
Through the course you will learn about the National Curriculum, Early Years and SEND frameworks, alongside ways of teaching, managing behaviour, assessing and planning for learning. You will develop high standards of professional behaviour and an understanding of adaptive practice that will help you prepare, deliver and evaluate lessons that engage, motivate and inspire children. You will be encouraged to develop team-working skills, essential for an integrated approach to learning and for work in a multi-agency environment. In order to support your professional development, work-related study is organised into three stages: Understanding Professional Practice, Managing the Classroom and Meeting the Teachers' Standards. Each stage supports your transition from trainee to Early Career Teacher through clear guidance and shared expectations.
Visit our course page to find out more about the Primary Education 3-11 route, which you would continue on to following successful completion of the Foundation Year.
Studying and living in Birmingham
Newman University is located in Britain's second city – Birmingham. With one of the youngest city populations in Europe, it is a vibrant and dynamic place to study.
Studying at Newman University, you have the advantage of being near to the city, but living in, or commuting to peaceful and comfortable surroundings on campus.
Dining out
Birmingham has lots of wonderful places to dine out with a range of different cuisines. Places where you can dine out include; Brindley Place, Mailbox and Hagley Road (just 10 minutes' from Newman).
Entertainment
Whether you like to go to; the theatre, gigs or clubs, or enjoy: sports, shopping visiting art galleries or exhibitions – Birmingham will not disappoint and you will be spoilt for choice!
Location
Getting around Birmingham is easy via train, bus or by car. Birmingham has excellent transport links to the rest of Britain, making it easy for those weekend getaways!
Why not explore the city for yourself by visiting one of our Open Days?
Want to find out more about Birmingham? Then take a look at some Birmingham City Secrets.
Ask Us a Question
Fast Track Your Foundation Year
Over the next couple of weeks we are offering a number of virtual and on-campus sessions where you can come along to have an informal chat with the Foundation Year team. You can find out more about our undergraduate degrees with Foundation Year, and how you go about applying to start in January 2022.
Book Now
Entry Requirements
Students will ideally require 48 UCAS points to access the programme.
Prior to enrolment students also require:
GCSE English Language, at grade 4 (or C) or above (or recognised equivalent)*
GCSE Mathematics at grade 4 (or C) or above (or recognised equivalent)*
GCSE Science at grade 4 (or C) or above (or recognised equivalent)*
DBS Clearance through Newman University
Teacher Services Checklist
Fitness to Train to Teach clearance
*Those who do not have the above GCSEs will be given the opportunity to take our in-house equivalency tests
Candidates are required to attend an interview prior to starting the Foundation Year. and an end of year interview in order to progress onto Year One.
Students will also be required to be assured against a set of fundamental Maths and English skills by the end of their initial teacher training degree.
If you require any further information or clarification of entry requirements please contact our friendly, helpful Admissions department, who will be happy to help.
International Students
The University is not licensed by the UK Government to sponsor migrant students under the Student route and is therefore unable to accept applications from international students at present.
Applying Direct Option
You can apply direct to Newman University for this course if you have not previously applied to Newman University through UCAS and you are not applying to any other universities.
January 2022 Direct Application Link 
September 2022 Direct Application Link 
N.B. will need to enter 'New User' account details when first accessing this portal.
If you have any questions regarding entry onto this course please contact our friendly and helpful admissions team via our Admissions Enquiry Form
Course Fees
Please note that the course fee for September 2022 will be confirmed later this year, and will be updated on the course page in due course. For reference the course fee for September 2021 was £9,250.
The University will review tuition fees and increase fees in line with any inflationary uplift as determined by the UK Government, if permitted by law or government policy, in subsequent years of your course. It is anticipated that such increases would be linked to RPI (the Retail Price Index excluding mortgage interest payments).
Additional Costs
Find out more about the other additional costs associated with our undergraduate degrees.