Primary Education (3-7) BA (Hons) with QTS
Honours Degree, Undergraduate, September 2021
Key Details
XX31 Course Code
3 Years
112 Typical UCAS Tariff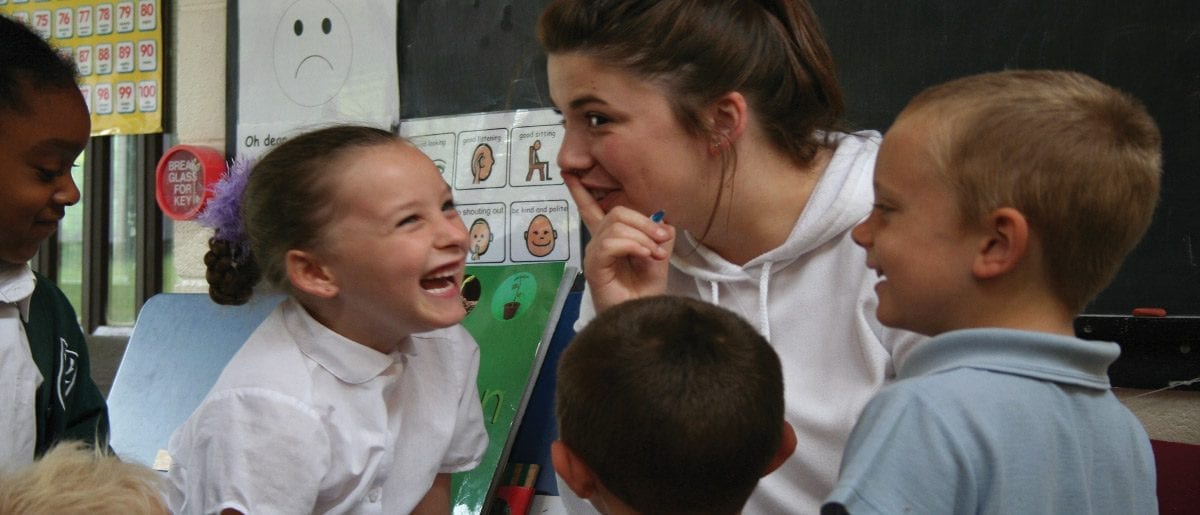 Overview
Why study this Primary Teacher Training course?
The 3-7 age range is crucial in terms of children's development and learning. It is at this formative and particularly receptive stage of development that attitudes towards learning are formed, attitudes that will impact on future learning and development. Thus the specialist Early Childhood Education modules include Enabling Environments and Diverse Settings; Creativity, Play and Active Learning; Positive Relationships; Policy and Practice in the Early Years; Leadership in the Early Years, and Research in Early Childhood Education.
Through Early Years Curriculum, Core Curriculum, Broad Curriculum and Educational and Professional Studies modules you will develop knowledge, understanding and skills that will enable you to become an effective Early Years teacher. You will consider the Early Years Foundation Stage alongside the Primary National Curriculum and develop understanding of progression through different age phases and expected levels of achievement.
School placements may be 1 hour and/or approximately a 40 miles radius from a student's term time address.
To ensure that the course content is as up-to-date and relevant to current teaching theory and practice as possible, this course will be re-validated at least every five years or sooner, if external changes require it.
What will I be taught?
You will be taught how to prepare, deliver and evaluate lessons/activities that will engage, motivate and inspire children. You will be encouraged to develop team-working skills, essential for an integrated approach to learning and for work in a multi-agency environment. The latest developments in education policy will provide an underpinning for your studies. You will spend time in school/settings in every year of the course, with preparation days followed by a block placement. These enable you to observe experienced teachers in the school/setting and complement the knowledge, understanding and skills you are developing, in a practical and professional situation.
As the course progresses, you will gradually take greater responsibility for planning and delivering lessons and activities, and for managing the work of children and adults. At the end of the second year, there may be the potential for students to opt-in to a four-year route which will give them an increased opportunity to follow their particular interests and extend their studies beyond mainstream primary schools. These may include opportunities to study overseas or gain further experience in specialist settings.
Teaching Methods and Assessment
Teaching is through a combination of lectures, workshops, tutorials, presentations, role play, seminars and practical sessions. Assessment is varied and includes a mixture of coursework, practical outcomes, individual and group presentations, reports and observed lessons in Early Years and Key Stage 1 settings.
Employability
Newman Initial Teacher Education graduates have a high employment rate; and are well respected in the region and beyond. Most students take up a position in teaching, although some pursue other careers using the range of transferable skills gained during study.
On completing the course and reaching the required teaching standards; upon graduation you will be recommended for Qualified Teacher Status with the Department for Education, who confer QTS, and ready to start  your first teaching job right away.
Catholic Certificate in Religious Studies
CCRS (Catholic Certificate in Religious Studies) is a national certificate validated and awarded by the Board of Religious Studies on behalf of the Bishops' Conference of England and Wales. Anybody wishing to be involved in Catholic education and formation may apply for this course. CCRS seeks to ensure that all participants have a basic knowledge and understanding of the beliefs of the Catholic Faith.
In a recent study (CCRS Twenty Five years on: One size fits all?) 90% of participants nationally agreed that the course has informed their knowledge and understanding of Catholic teaching.
At Newman the two year course is offered within the normal undergraduate timetable where possible and also delivered on Tuesday evenings in the Semesters 1 and 2. The course provides an important opportunity to study and discuss the teachings of the Catholic Church and the implications for Catholic education. It is a highly desirable qualification for anybody considering teaching in a Catholic school. For further information please go to CCRS webpage
Autumn Open Days
Join us at one of our virtual open days this autumn, where you can find out more about our courses and talk to academic staff and current students.
Book Now
Contact Details
For Admissions Enquiries
Entry Requirements
You should achieve at least 112 UCAS points, including a minimum of BBC at A level or DMM in a BTEC Extended Diploma or DM in a BTEC Diploma towards the total tariff of 112 points. Access Diploma students will need to have completed the course and achieved a minimum of 112 UCAS points.
Access Students can achieve this with the following combination of Distinction, Merit and/or Pass grades at level 3 achieved from a completed Access course:
D30-M0-P15; D27-M6-P12; D24-M12-P9; D21-M18-P6; D18-M24-P3; D15-M30-P0
GCSE English Language, Mathematics and Science at grade 4 (or C) or above (or recognised equivalents). Please be aware that whilst these GCSEs are not mandatory at application point, these qualifications must be obtained by enrolment. Students will also be required to be assured against a set of fundamental maths and English skills by the end of their initial teacher training.
School experience is not a requirement for entry onto the programme. However, having experience in a school will support your preparation for training as a teacher.
At interview you will be given the opportunity to discuss any relevant school experience or opportunities that you have had to work with school aged children.
You will need to obtain Disclosure and Barring Service (DBS) clearance and meet the requirements for fitness to train to teach prior to starting the course. For more information on your DBS application please visit the How do I complete my DBS form advice page.
Interview Information – Click Here
Applying Direct Option
You can apply direct to Newman University for this course if you have not previously applied to Newman University through UCAS and you are not applying to any other universities.
Simply click on this Direct Application link to do this.
N.B. will need to enter 'New User' account details when first accessing this portal.
Ask Us a Question
Course Fees
Fees per academic year:
Full-time UK/EU students: £9,250 *
* Fees shown are for 2021/22 academic year. The University will review tuition fees and increase fees in line with any inflationary uplift as determined by the UK Government, if permitted by law or government policy, on enrolment and in subsequent years of your course. It is anticipated that such increases would be linked to RPI (the Retail Price Index excluding mortgage interest payments).
Additional Costs
Find out more about the other additional costs associated with our undergraduate degrees.