Independent research into the impact of the systematic synthetic phonics government policy on literacy courses at institutions delivering initial teacher education in England
Click on the cover to download the full report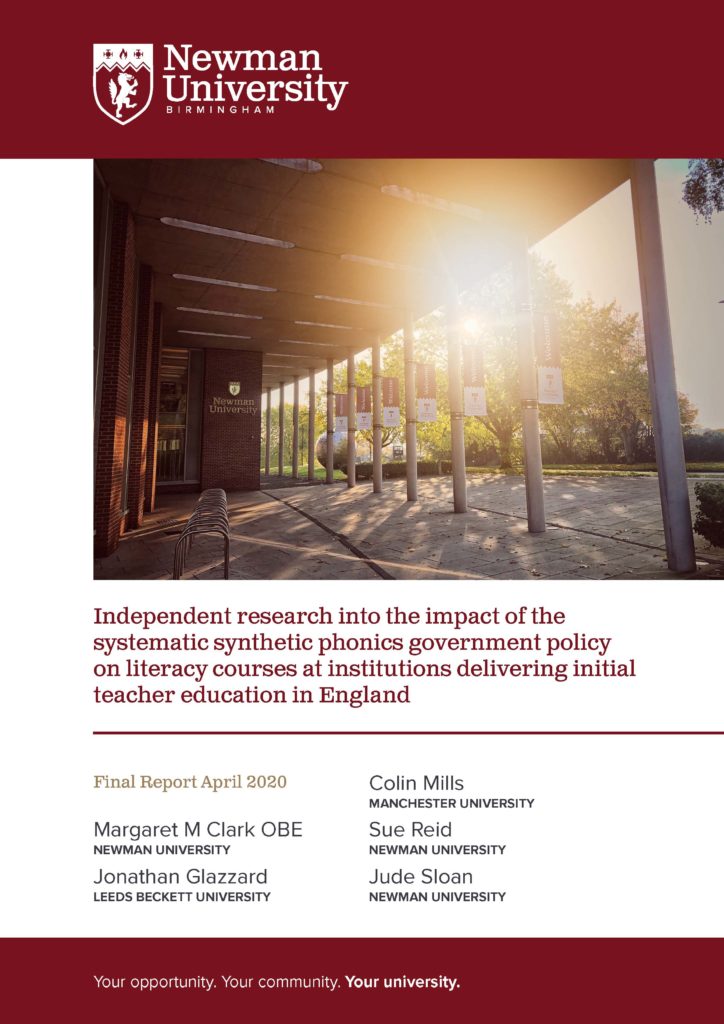 Independent research into the impact of the systematic synthetic phonics government policy on literacy courses at institutions delivering initial teacher education in England
Final Report April 2020
Authors:
Margaret M Clark OBE, Newman University
Jonathan Glazzard, Leeds Beckett University
Colin Mills, Manchester University
Sue Reid, Newman University
Jude Sloan, Newman University
Articles related to the report:
The future of early reading courses in ITE in England
Education Journal 12.05.2020 – Independent Research into the impact of the systematic synthetic phonics government policy at literacy courses on institutions delivering ITE in England
Literacy Today No. 93 July 2020 – Article: The future content of courses on teaching early reading in ITE in England: evidence-based or controlled by government? and Written Questions in the House of Commons and House of Lords relevant to the government policy on the National Curriculum/Early Reading in England, 10 June to 16 July 2020
Other work related to Margaret M Clark:
The Phonics Screening Check 2012 – 2017 – an independent enquiry into the views of headteachers, teachers and parents
Education Journal Special Issue – Baseline Assessment – 24.10.18
Education Journal Special Issue – Literacy policy, synthetic phonics and the Phonics Screening Check – 17.06.19
Education Journal 21.07.2020 Class of COVID 19 – what next for education?
Education Journal 08.12.2020 The administration of the Phonics Screening
Education Journal 23.6.21 – The Phonics Screening Check 2012-2022: tracking and tracing changes in government policy
Notes on article in Education Journal 28.6.21
Education Journal Review Vol. 27 No. 2 – July 2021 (2) Extract.docx (1)
MM Clark Publications on phonics and literacy 2014-2021 8.9.21
Pages from Literacy Today No. 95 – 2021-1 (1 Page 9 extract)