Student-Staff Partnerships
Student-Staff Partnership Projects are an important part of our mission to enhance Newman University as a learning community where everyone has the opportunity to shape our work. Partnership projects are a route to meaningful collaboration between students and staff at the heart of university life and culture. We therefore provide opportunities, open to all students, to work co-operatively, with both academic and professional and support staff, to develop aspects of university life that matter to them.
There are three different types of Student-Staff Partnership Projects:
Academic partnership projects (SAP) – looking to enhance an aspect of the broad student learning experience

Research partnership projects (SRP) – integrating students as researchers in their subject discipline

Community partnership projects (SCP) – engaging with the wider community
If you would like to take part in a Student-Staff Partnership there is a formal annual round of funded partnership projects, launched each Autumn for completion the following June. If you have an idea for a project we encourage you to get in touch with the SSP team or discuss your ideas with staff members you feel would like to be involved at any time.
Read about the Pedagogy of Partnership.
Read what our students have to say about the Student- Staff Partnerships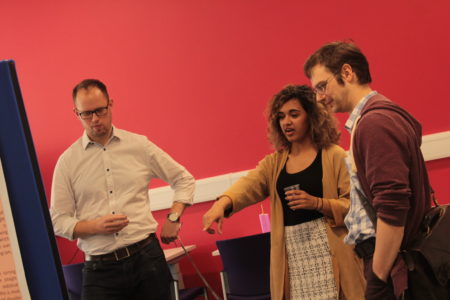 Tanzeala's project, which she worked on with Dr Toni Wright, Senior Lecturer in Counselling and Psychology, and Dr Alexander Coles, Lecturer in Psychology, was entitled 'How are British values represented in online discussions about parliamentary democracy?'
The project looked at how individuals' online construct the notion of British values when discussing issues related to Parliament. Tanzeala explains that she was able to develop her confidence and communication skills, which she can now use as part of her course, as she had to present on behalf of her team and found herself discussing the project and its findings to individuals from different disciplines.
Tanzeala explains she received a good level of support from her supervisors throughout the project: "I was able to discuss any issues I had related to presenting my work with my supervisors. I feel proud of myself for creating a piece of work that everyone seems interested in. This project has also built up my knowledge on certain topics which are focal in my PhD."
When asked if she would recommend the student-staff partnership, Tanzeala replied, "Yes, it's a brilliant way to research anything that you enjoy!"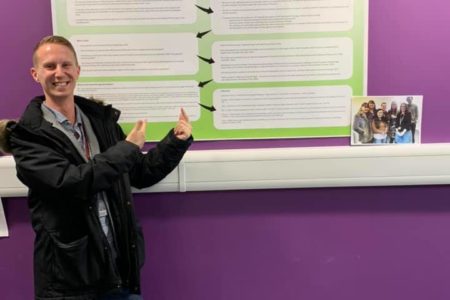 Daniel is studying History BA (Hons) and took part in a student-staff partnership in his first year of study after being approached by a staff member at the University. Daniel worked with Leoarna Mathias, Transition and Retention Programme Co-ordinator; Charlotte Lewandowski, Lecturer in History; Emma Folwell, Senior Lecturer in History; and students Gill Gilbert, George Bryant, Maisie Gough and Chloe Sloane.
The group's project looked at student induction and retention, focusing on the importance of and making changes in inductions, and retention of students.
As part of the project, Daniel believes he has been able to improve his communication and listening skills as well as develop his confidence in his own abilities. Daniel also explains the staff at Newman listened to his ideas and helped to shape them, actively putting ideas into action.
Daniel commented, "It has been such a great experience being a part of this project with fellow students and members of staff, I have thoroughly enjoyed this project and I am so thankful to be given this opportunity to meet and form new relationships with individuals and strengthen those that exist. As a first year student, it has given me a greater understanding of what the University hopes to achieve through actively listening and engaging with its students. These opportunities are important to students in order to feel that they do matter and have contributed to a wider part of the University experience and acknowledgement that students know what is best for them. It is important for students to be involved no matter how small and listened to."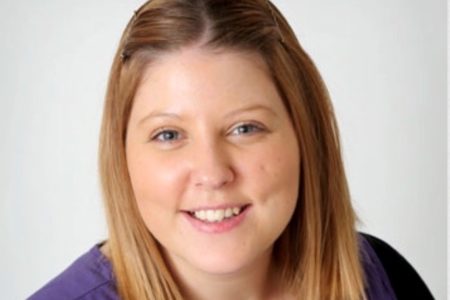 In her third year of studying towards a degree in Primary Education Sara took part in a student-staff partnership project, which she was also able to use as her dissertation project. The project looked at 'Good Education in an age of measurements – Teachers Perceptions on Purposeful Assessment.'
Sara worked with her supervisor, Parminder Assi, Senior Lecturer in Education and Professional Studies, to focus on Key Stage 2 SAT's and how purposeful assessment is within Primary Schools.
Sara commented, "Having conducted interviews with teachers and Head teachers, I was able to develop my communication skills and interviewing techniques.
"I was able to develop my organisation skills which linked together with time management and working to a strict deadline.
"I feel the organisation skills I have developed throughout this course has prepared me well for my teacher training year. I also feel working to strict deadlines has equally prepared me for a busy year of training."
Sara also explains that she received on-going one-to-one support throughout her time at Newman as well as during the project; Sara had regular meetings with her supervisor as well as tutorials with other members of staff to support with other university work.
"As an adult learner I have found the lecturers have been a massive part of my university experience. Throughout the past three years at Newman, the staff have all been very supportive and always available to provide advice and guidance. The staff are always responding to your emails and ensure a high level of student-staff partnership."
Sara explains she feels she would not have gained this opportunity at another university, commenting, "The great thing about Newman is that it is a much smaller university in comparison to others. This makes a massive difference in how the learning and experience is received. The staff know you by name; you are not just a number.
"I feel this project and course has really helped me grow academically and personally. Academically I feel I have gained wider experience in the field of work and I feel well prepared to continue my studies into teaching. Personally, I feel my confidence has grown drastically and that is all because of the support and guidance I have been given from the staff and partnership at Newman University. I would always recommend this university to any potential student due to the academic support and manageable size."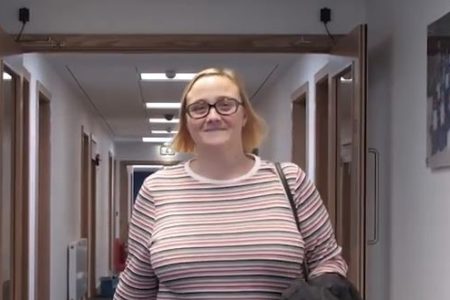 Marilyn decided to take part in a student-staff partnership in her second year of her Honours degree at Newman University, focussing on the topic of 'An exploration into student attendance at Newman University'
Marilyn enjoyed working on the project so much that she then worked on another project in her third year entitled 'How does Newman express to students the importance of developing studentship: such as respect, commitment, autonomy and responsibility to oneself as well as other staff and students?'
Marilyn worked on the projects with fellow student Anne-Marie Alder and Tutor for Transition and Retention, Sarah Parkes. Marilyn found out about the student-staff partnership whilst promoting the university's preparatory HEADstart programme. Both Marilyn and Anne-Marie had a conversation with Sarah about attendance in lectures and Sarah suggested the students complete a student-staff partnership project on the topic.
The project was investigating students' perceptions of the new SEAtS app, that students were expected to use this year to promote independence and ownership of their learning, by the students agreeing to an attendance percentage and the learning contract.
Marilyn commented, "This helped me with further knowledge to complete my dissertation, by knowing about the process of the ethics form, and the methodology.
"The project helped me with the proposal, ethics and the methodology for my final year. This also helped me to understand the different ways to gain information from participants, that was ethical and be confident to speak to groups of students unknown to myself."
When asked if she would recommend the student-staff partnership to other students, Marilyn answered "Yes! This Student-Staff partnership helped me in my second year to be prepared for the third year of dissertation. This also gave me the opportunity to work with another student from a different course and learn about collaboration and develop technical skills."
Marilyn also commented how she feels she would not have had this opportunity at another university, explaining, "Newman is a smaller cohesive University that is friendly and puts the student first. Without the close links with very friendly lecturers, this conversation during the promotion of HEADstart may never have occurred.
"Both projects have made me more confident with my study skills and have given me opportunities to develop personally and academically. I have thoroughly enjoyed working on these research projects with two fabulous people."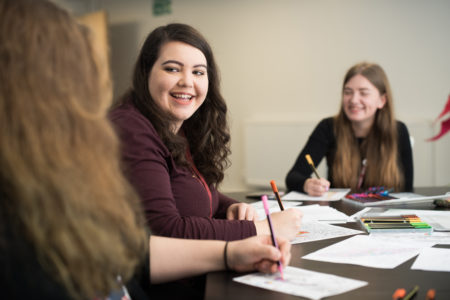 Shannen Carter is studying towards her History BA (Hons) and in her third year took part in a student-staff partnership project entitled 'F.A.C.E of Mentoring'.
Working with fellow student Gill Gilbert and Learning Support Tutor, Jacqueline Ridge-Stearn, the project focused on the mentoring services within the University; how many students access the services, what they access the services for; how improvements can be made to the accessibility and effectiveness of the services.
Shannen commented, "I learned how to conduct independent research including how to complete an ethics form, conducting face-to-face surveys, analysing data and presenting my findings. I also developed my ability to work collaboratively since I was working closely with another student and staff member. Since I was in third year whilst taking part in the project, I also developed my time-management skills, as I had to juggle a variety of deadlines and extracurricular activities, in addition to the project.
"I received lots of support from my student partner, Gill, who had prior experience of conducting independent research and of taking part in a Student-Staff Research Project. She informed me about the processes involved in conducting this type of research (since I had never done it before) and was there to answer any question I had.
"It's a unique experience that allows students and staff to work collaboratively as equals to research a topic that they share a common interest or concern about. Taking part in the project enables students to develop their research skills and improves teamwork, time-management, presentation and academic skills too.
"Personally, the project has built me as a person by enabling me to take on a new type of responsibility that is separate from my course. I have developed friendships with the others involved in my partnership and it has been an enriching and eye-opening experience. It has also been rewarding to develop a unique and independent project with a fellow student, which has been supported by a staff member. The process has been very enjoyable.
"Academically, I've been equipped with new skills that I didn't possess prior to the project regarding conducting independent research. Taking part in the project has instilled me with the confidence to take on independent research in the future since I now know the processes and skills involved. It has also allowed me to exercise my ability to present my research in other formats such as a poster, which has further developed my academic skills."