Our degrees with foundation years are available in a wide range of subject areas allowing you to fast track your journey into higher education, whilst developing your confidence in degree-level learning. Whether you are looking to develop or change your career path, or you took a break from education after leaving school, or coming straight out of education and want to widen your career opportunities, a degree with a foundation year could be the opportunity waiting for you.
This four-year degree programme, provides an innovative pathway onto your degree and an alternative route for those unable to meet the traditional entry requirements for a three-year degree, and for those looking to build their confidence and academic skills.  It will prepare you for your degree studies in a supportive and stimulating learning environment.
You will begin with an exploration of education and society, before moving onto consider identity, being human and the digital world. Over the course of the year, you will build the confidence, skills and experience to prepare you for your chosen degree.
January 2022: Fast-Track Foundation Year
The Coronavirus (COVID-19) pandemic has changed many people's circumstances, and as a result, many will be looking to return to education. In response, we are offering a fast-track first year for many of our Foundation Year routes in January 2022.
Fast tracking your first year from January to July allows you to complete the first academic year in a shorter time-frame, enabling you to start the next year of your course in September 2022.
You will enrol in January, and study through to July, preparing you to successfully progress onto your chosen degree pathway in September 2022. Beginning your university studies this January rather than waiting until next September means graduating a year earlier and joining the job market sooner, because we understand that flexible opportunities are key to our students.
Please note the modules offered for January 2022 differ to those offered for September 2022. In order to take advantage of the benefits of a fast track Foundation Year route in January 2022, students will have less time with their specific degree tutor than those who enrol in the September intake. You can be assured that you will receive the same teaching hours and the same high-quality teaching as students on the September-start programme.
View the Foundation Year course page for further details.
Find Out More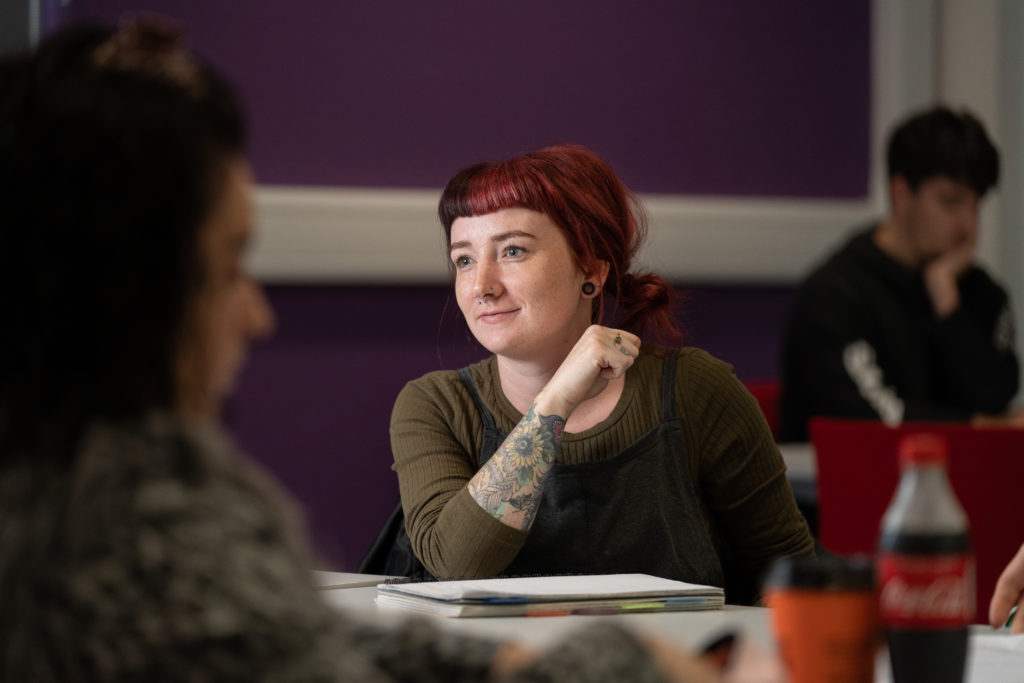 Undergraduate Degrees with Foundation Year
*Please note, for those who are interested in studying our BA (Hons) Accounting and Finance degree you are advised to apply for BA (Hons) Business Management with Foundation Year. Students will be required to achieve an average of 50% across the foundation year, and have achieved a GCSE in Mathematics at 4 (or C) or above, to progress on to level 4 of Accounting and Finance.
**Forensic Psychology route, will be renamed Psychology with Criminology from September 2022.
The foundation year has helped me in ways I couldn't imagine. It helped me prepare not only for my degree but also helped in other areas of my life. My confidence has grown so much and I have the foundation year to thank for that. I walked into my degree feeling so much more confident about meeting new people and completing the work. My worry before foundation year was that I wasn't smart enough for university but the foundation year helped me realise my strengths and my way of learning. The staff and student mentors are amazing. I even recommended a friend to the foundation year who has recently started this academic year, she has said it was the best decision she's ever made, and I couldn't agree more.
Join us at one of our information events
Foundation Year Drop In Sessions
Book Now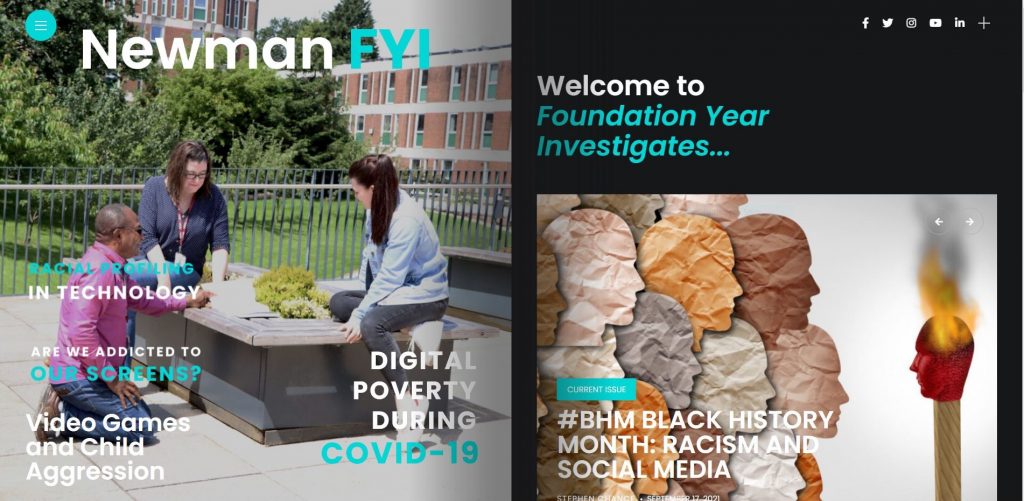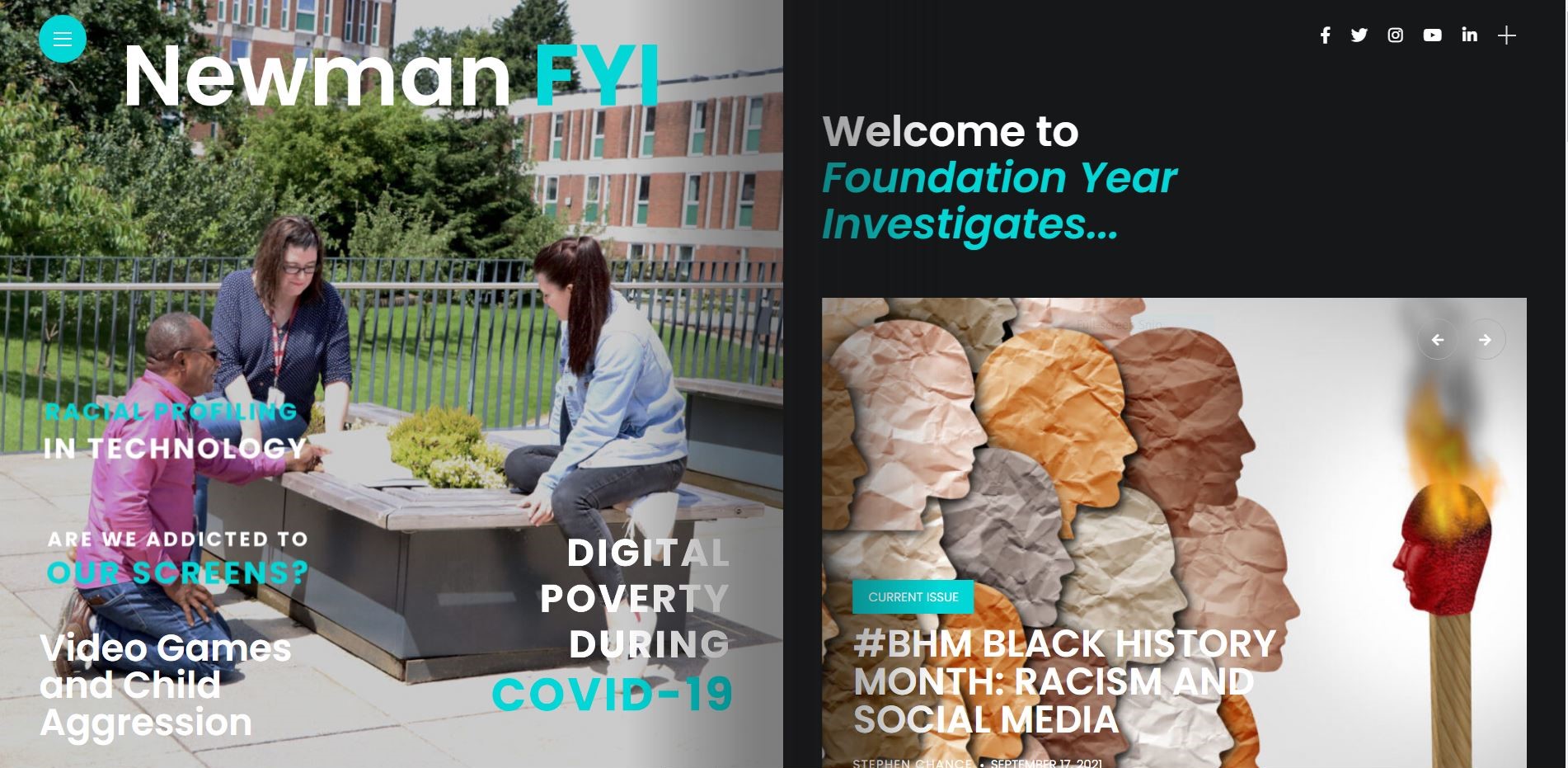 FYI: Foundation Year Investigates 
Newman University is excited to launch FYI: Foundation Year Investigates, a digital magazine designed in collaboration with Foundation Year students and staff. Comprising entirely of content created by Foundation Year students as part of their coursework, FYI both showcases and highlights the breadth of high-quality engagement Newman FY students have with society's most urgent current issues.
FYI goes beyond a traditional magazine format, as students deftly created podcasts, blog posts, and videos to explore these pressing concerns. To celebrate Black History Month #BHM, check out our flagship piece by Stephen Chance (Criminology) on the role of social media in combatting racism. For more, browse through our pilot issue Being Human in a Digital World, in which Foundation Year students plunge into issues such as racism on social media, screen time addiction, digital poverty, and the impact of online communities on body image.
Dr Selina Patel Nascimento, Lecturer in Digital Humanities, comments "Studying at Newman University is not all exams and revision – FYI Magazine highlights how exciting learning for Foundation Year students can be. Students explore and learn about the issues that matter to them, using skills that are vital in the digital age. Students can create fresh and engaging work through a variety of media such as podcasts, blogs, and even animated videos."