Support for Students Who Are Estranged From Their Family
Estranged students are young people studying without the support and approval of a family network. Students in this position often have no contact at all with their family and may have removed themselves from a dysfunctional situation.
At Newman we recognise that as an estranged student starting and studying at university, could be particularly challenging without the support of a family network – there may be concerns around accommodation and financial support. We are committed to supporting estranged students both prior to and for the duration of their studies.
We are aware that not every student who is estranged may want to access additional support, however for those that do, the following support is available.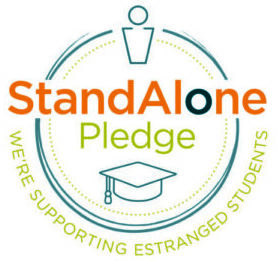 A dedicated contact for estranged students
Newman has a dedicated contact for estranged students who can offer tailored support prior to arrival and throughout your time at Newman. If you have any questions about studying at Newman and the support available, you can contact our Student Welfare Adviser Tammy Oyekanmi by emailing t.oyekanmi@newman.ac.uk
Pre entry support
We can offer you guidance from your first interest in applying for university right through to studying here. Please get in touch with our Student Welfare Adviser if you have any questions. All our support is optional and you can decide how much support you need at any stage.
HEADstart
Estranged students have a guaranteed acceptance onto HEADstart, our a preparatory course for new single, joint and combined honours students. The aim of HEADstart is to help you adapt to student life as quickly and smoothly as possible. HEADstart is delivered in the two weeks before Welcome Week. For further details of the programme visit our HEADstart page.
When you arrive
If you choose to disclose your estranged status to Newman to our estranged student contact, you will be contacted at the beginning of your first year with Newman. Our Student Welfare Adviser will invite you to a meeting, either remotely or on campus, to explain the range of support that is available to you.
Accommodation
As an estranged student, you can apply for and access university accommodation for 365 days per year if you need it. For more details, get in touch with our Accommodation team.
Student Finance
Full-time undergraduate students can apply to Student Finance England for a tuition fee loan and a maintenance loan for general living costs. You may also have eligibility for additional support if you have children or a disability or long term health condition. Our Student Welfare Adviser is available to advise you about applying for student finance as an estranged student and can assist you to gather the supporting evidence you will need.
The Stand Alone Charity have produced an excellent guide with regards to applying to student finance as an estranged student. You may also want to check out this useful webpage from UCAS: Going it alone? Support for estranged students in higher education
Grant Funding
Our Student Welfare Adviser can also support you to apply for grants that you may be eligible for such as those listed below.
If you are experiencing financial hardship you may be eligible for a grant through the
Newman University Support Fund , which is administered through the University's Finance Office.
Buttle UK can also offer small grants to students aged 16-20 who are estranged from their family.
There are also a number of charitable trusts and foundations who offer support to young people in full time education. Use the Turn2us website to search for different organisationsthat might be able to help.
Support on your course
Personal Tutors
All students at Newman are allocated a personal tutor who is a single point of contact on your course, they can provide support and advice on academic issues as well signpost you to other support.
Student Support
Our Student Support team provides a wide range of services to ensure you make the most of your time with us. Our support services included Counselling and Mental Health, Welfare, Disability, Dyslexia and Academic Development. For more information on how to access these services visit our Student Support pages
If you would like further details on any of the information or support mentioned above, please email Tammy Oyekanmi our Student Welfare Adviser on t.oyekanmi@newman.ac.uk