An Overview – The Careers Service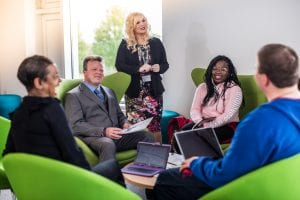 Newman University Careers Service provides high quality Careers Education, Information, Advice and Guidance, in a friendly, inclusive, impartial and supportive setting. Please see our attached documents below to see what is on offer for students, graduates, staff and employers in detail.
As a service our aims are to:
Provide an impartial, friendly and flexible service for careers education, information, advice and guidance, covering  careers and employability.
Offer employability-based opportunities for students and recent graduates.
Continually improve CEIAG provision at Newman University.
Careers Service Outcomes:
Through relevant professional advice and guidance, the expected outcomes for students and graduates are that they will:
1. Know options available to them.
2. Know where to find out about other sources of help.
3. Develop transferable, professional and specialist skills which meet the needs of the labour market.
4. Have quality work-based, work-related and extracurricular opportunities where possible.
5. Have the ability to make decisions and implement personal and realistic career choices that have been well informed.
6. Know how to present themselves successfully to employers and course.
To access the Careers Service students and graduates can login to their My Career area.
To access our useful careers resources online, students can access our Careers Group on the Intranet
If you would like to speak to someone about Newman's Careers Service please get in touch with us at: careers@newman.ac.uk