About the Disability and Mental Health Service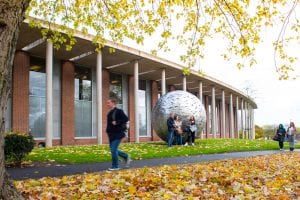 Our role is to enable students who may need additional support, to fully participate in Newman life and also to promote awareness of inclusive practice throughout the University.
You may not regard yourself as disabled, but if you have any on-going mental or physical health issues, which impact on your study, are D/deaf or hard of hearing, blind or have visual loss, or have a specific learning difficulty such as dyslexia, dyspraxia, or ADHD, which impacts on your ability to study, then our service is for you.
These web pages provide information about our team and services, assistance available and how to access it, what to do if you think you may have dyslexia, financial assistance available through DSA and lots of other useful information.
The information on these pages is useful to:
Staff supporting students with disabilities, health conditions or specific learning difficulties.
Contact us if you:
We may also be able to help if you have a temporary impairment or health difficulty as a result of an accident, injury, surgery or illness.
We can provide information in alternative formats, such as large print, audio format, or Braille, please contact us, or (if on an employer based programme) make your request to the EBITT team.
Please note: These webpages outline the sort of assistance which may be available for students with different impairments. Some of this assistance is subject to funding. The majority of students will need to apply for funding through Disabled Students Allowance (DSA). Students on employer based programmes will need to apply to the Access to Work Scheme. A separate leaflet is available from Student Support.
Related link:
"The Higher Education Guide for Disabled People" from the Disability Rights UK website