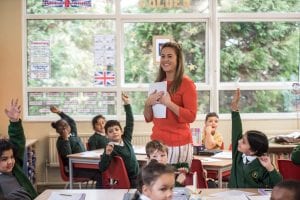 As a trainee teacher you will follow a programme which will develop your ability to create, teach and assess inspirational lessons that develop both core skills and a love of learning amongst your pupils.
Full-time undergraduate initial teacher education courses are offered in:
BA (Hons) Primary Education (age 3-7) with QTS
BA (Hons) Primary Education (age 5-11) with QTS 

The programme includes opportunities for you to develop and broaden your knowledge, understanding, skills and experience through a range of modules and placements. You will explore a range of practices, theories and ideas that underpin how pupils are taught in schools. Additionally, you will investigate issues related to learning theory, individual development, education and society, equality and opportunity, access and inclusion, educational alternatives and organisational change. You will also study aspects of the philosophy, psychology and sociology of education, which will support you in promoting the spiritual, moral, cultural, mental and physical development of pupils in schools.
Primary Education (3-7) foundation degree progression route with QTS
Primary Education (5-11) foundation degree progression route with QTS
The Foundation Degree Primary Progression routes enable students who are suitably qualified, to enter the final year of  the BA Primary Education with recommendation for QTS course. Please refer to the Admissions section of the website, or contact admissions@newman.ac.uk regarding entry requirements for these routes.
BSc (Hons) Mathematics with QTS – Opt in
During the first year of your degree you will opt-in to a specialised teacher training programme integrated within the 3 year BSc (Hons) Mathematics programme in order to learn how to teach mathematics to all ability ranges at secondary level. Additionally, you will develop a sound understanding of secondary mathematics pedagogy that deeply develops pupils' mathematical knowledge and enthusiasm for learning mathematics.