2023 Poetry Competition winners announced
06/04/2023 by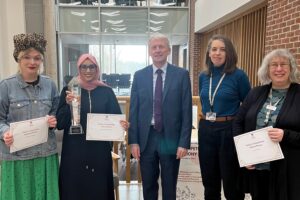 Newman University welcomes in the spring season once again with its annual Poetry Competition.
The Dr Graham McFarlane and T E Murphy Prize for Poetry, invites staff, students, and alumni of Newman University to enter their poems and share their creativity.
Graham and Terry were the first Editor & Deputy Editor of Newman's original Poetry Magazine in the academic year 1968-69. To mark the 50th anniversary of Newman's opening, the poetry competition launched in 2018.
The judges noted that this year included the highest standard of entries yet. Naturally, the staff, students and alumni displayed their writing talents within a variety of themes. This inherently important competition gifts a platform to the voices of the Newman community, evoking an openness to share.
This year's judging panel included Deputy Vice Chancellor, Professor Peter Childs, previous winner and Senior Lecturer at Newman, Richard Goode and Jai Mackenzie, Senior Lecturer in Applied Writing & Humanities.
On Friday 24th March, a ceremony took place that saw the winner and runners-up presented to the institution with their prizes. Additionally, the poets had the opportunity to read their pieces aloud to a sizeable audience.
Professor Peter Childs commented: "The poetry competition has become an excellent annual expression of the community spirit and creative energy that abounds at Newman. This year the entries were better than ever, with the judges working hard to agree the best poems. It is to be hoped that the competition becomes a long-standing tradition at Newman and continues to inspire more entries of the excellent standard put forward in 2023. Congratulations to all entrants and especially to the three winners and two poets commended by the judges."
Student, Sana Mallam, was named the winner for her poem and video, 'Where I'm from.' Sana commented "My poem was created as part of my Applied Humanities digital project. It explores the dimensions of my identity and recognising intersectionality. I have always enjoyed Creative Writing but never imagined winning a competition, so it is an honour and achievement to win this award. I would like to thank my amazing tutors for their support throughout my time at Newman."
Second Place was the poem 'Tony' by Jodi Ternent. Jodi commented: "Thank you judges! For me, writing poetry has always been about unravelling the mass of tangled up fairy lights in my head. This poem came from one of those sittings trying to untangle those feelings of loss and grief for what could have been after the death of my estranged Dad."
Third place went to Director of Library and Learning Services, Chris Porter, for her poem 'Autumnal thoughts.' Chris commented: "My poem was almost forty years in the making. On a perfect autumn day, during my final year at university, I was struck by how fleeting time as a student is. My journey into what I would become was still a matter of mystery, but I knew I was moving on, and tried to capture my thoughts in words. Last year, I came across the musings of my younger self and finally finished the poem."
Additionally, the judges highlighted two poems worthy of notable mentions. These were 'The daughters you breed' written by current student, Maggie May Eyre and 'Five Deaths of a Nation', by 2021 runner up, Lara Callaghan.
A big thank you goes to all who entered and those involved in the poetry prize. It is our hope to see a continued influx of outstanding and moving poetry from our university community in the years to come.