If you are looking for a rewarding career in nursing or allied health areas, Newman University provides a dedicated learning environment with the latest facilities, including a clinical simulation suite and an immersive lab to recreate the experience of working in a busy health care environment.
Our three distinct courses in Adult Nursing, Mental Health Nursing and Physiotherapy are delivered in a supportive teaching and learning environment where individuals can develop inter-professional working and an understanding how their role fits within a team of staff to support a patients' recovery.
The pathways for students are enhanced with professional practice placements from partners giving a range of practical clinical experiences, preparing students for a rapidly changing clinical landscape. Whether administering care and support to individuals or supporting wider healthcare needs of communities, students can be equipped with the skills and emotional understanding that are required to become a qualified practitioner.
School of Nursing and Allied Health Launch Success
On 28th Februrary 2023, Newman University launched the School of Nursing & Allied Health. Thank you to everyone involved who made the night such a huge success. Ahead of the official opening, Dame Elizabeth Nneka Anionwu sat down in a wonderfully intimate discussion with Kevin Crimmons, Head of Adult Nursing and Health & Social Care.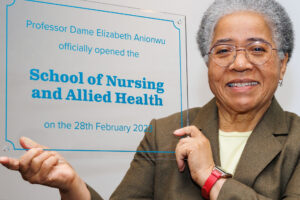 In front of a full lecture theatre of staff, students and invited guests, Dame Elizabeth shared her experience through life, explored her identity and what contributed to such a fascinating journey through nursing.
Read our feature on the BBC News website – New £3m nursing department to open at Newman University – BBC News
View the event gallery.
Do you have any questions?
Ask Us
Why choose Newman?
You will have the opportunity to study on an inter professional basis alongside other nursing and allied health students.
You will learn from a highly experienced and passionate teaching team who will provide support you to help you to achieve your ambition.
We work with a number of practice partners to give you essential practical experience on a range of clinical placements.
You will benefit from our new clinical skills suite including a state-of-the-art immersive lab.
We offer smaller class sizes and excellent academic and pastoral support for our students.
Birmingham is one of the UK's most diverse cities outside of London, which provides you with a wide variety of experience that will be valuable to take forward into your future career.